Modular shelves, storage cubes and room dividers
✔ Worldwide shipping ✔ 100% Made in Germany ✔ Easy, tools free installation
✔ Multifunctional ✔ Light & flexible ✔ Sustainable ✔ Entirely toxin-free ✔ 100 % Recyclable
---
Show 1 to 16 (from a total of 16 products)
Modular and flexible furniture, shelving and room divider solutions for modern workspaces and homes
Adjustable modular shelving and storage systems, room dividers.
Create your custom design with our easy to use online configurator
Easy tools free installation
Multifunctional, adjustable and always flexible: from bookcase to room divider. From lowboard to vinyl storage. From partiton screen to modular seating. Movisi furniture adapts to your needs
Sustainable furniture production and use of resources: 100% made in Germany, toxin-free, emission-free, allergy-friendly, 100% recyclable.
Ease of hygiene: Our modular systems are easy to clean. Disinfectants can be used and will not harm the product.
Modular Shelf Systems and Room Dividers for a Modern Office and Home
Individually configurable: Design your own shelf or room divider with our Shelf Configurator
Simpler assembly, without tools
Multifunctional and always flexible: From bookshelves to room dividers, lowboards, record shelves, and seating
Sustainable, resource-friendly production: 100% made in Germany, toxic-free, emission free, suitable for allergy sufferers, and 100% recyclable
Free shipping, right to your home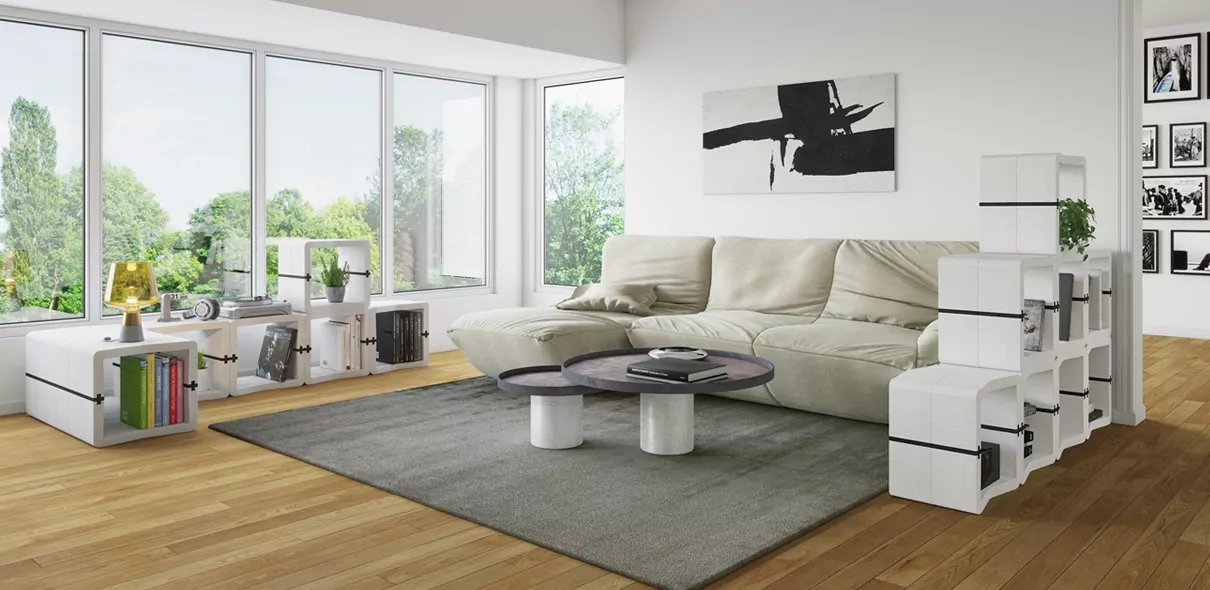 Living Room/Dining Room
Use MOVISI's modular systems in either room – living room or dining room – to make shelves and room dividers that better organize your space and, what's more, stylishly display your favorite objects: sculptures, books, folios – all your treasures and mementos. Highlighting your favorite things gives a room character and class. It only makes sense to present them with an attractive shelf of high-quality design. MOVISI wall shelves and shelving systems will allow you to create the perfect storage solution for any situation, while showing style and great design.
Modular honeycomb shelving: shelving idea for living room, made with 12 modular shelving units in black.
Living Room Shelves
When decorating a living room and dining room, design, style, and functionality all play a part. In the living room, stow your book collection where it's easily accessible. In the dining room, display valuable dishware best in an open shelf, which also sets the scene for your favorite decor items, lending the room a more elegant feel. Create visual highlights with individual objects, sculptures, or maybe that one book that's bespeaks you best – it's all shown off to perfection with a MOVISI shelf. Of course, book or comics collections grow constantly, as does your trove of Blu Ray or DVDs. These always take up a lot of space in the living room, making sufficient and attractive storage essential.
Consider wall mounting a shelving system for this purpose, where you can decide the dimensions for yourself, utilizing the entire wall area and creating beautiful accents with your shelves. Floating shelves are mounted directly on the wall, where they have an airy, open, and light feeling. This can augment the spatial experience and overall atmosphere of a room.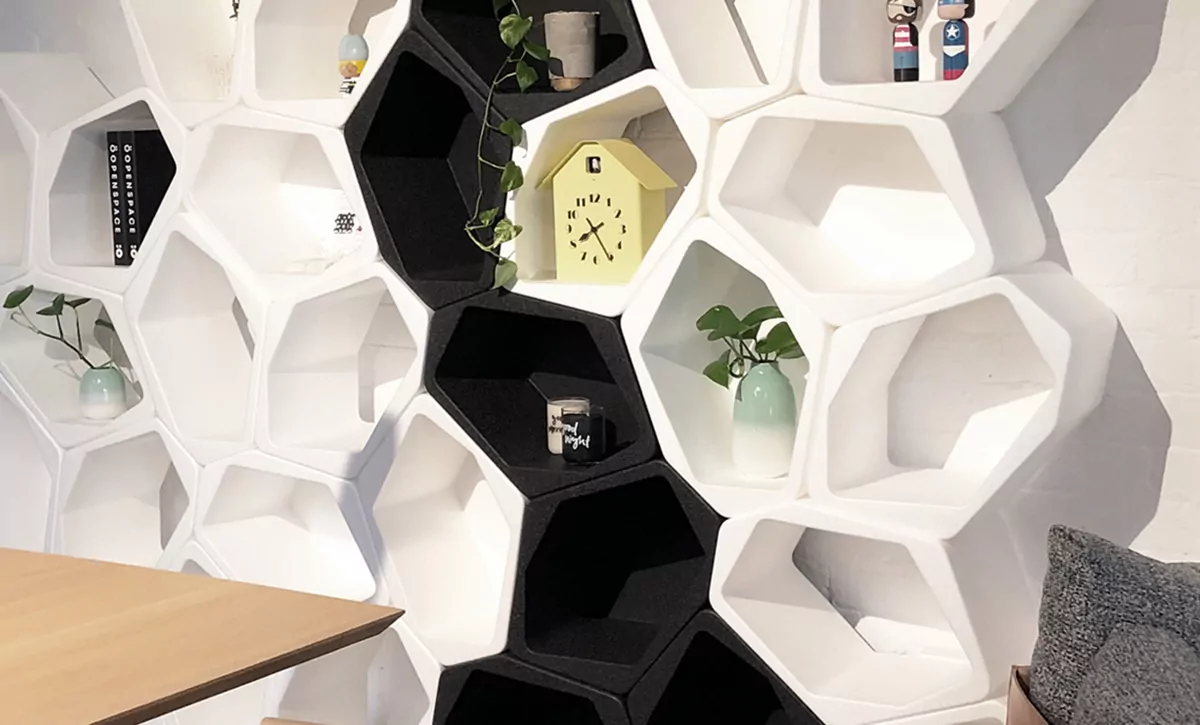 Living Room and Dining Room Shelves
All shelves from MOVISI are made to be flexibly assembled and disassembled or completely reconfigured on short notice. A free-standing living room shelf or room divider creates a visual separation between two areas, especially when the shelf is open-backed. You'll enjoy a homey, more organized atmosphere and experience of space. MOVISI provides a consistent, organic, carefully thought out design that invites inhabitants to relax. You'll find a great selection of elegant and highly resilient furniture of different styles in our shop, all of the most sophisticated design. Take a look at photos of our furniture in situ and realize your own personal, home decorating dreams.
Sideboard
A sideboard is always very practical: One the one hand, it provides space to store items in an accessible, easily visible way. But its top surface is also a great place to thoughtfully stage arrangements of photos, lamps, plants, and other accessories. This is particularly true of a sideboard with open shelves in the living room. These days, electronic storage is replacing paper and files, meaning we are freer to focus on our favorite objects and mementos, whether it's artwork, photos, a digital photo frame – you name it. Hang a self-portrait over your sideboard! MOVISI shelves set the stage for artwork like no other.
Sideboard, Highboard, or Lowboard – You Decide
Sideboards are real all-rounders. Aside from providing new storage space, they offer a level surface that's more easily accessible than with higher shelves. This top surface is just waiting to be decorated with your favorite items. Because our furniture is flexibly assembled, you determine the ultimate length, depth, and height of it. There are countless design possibilities, meaning your sideboard will fit into any room and augment any decor style.
Sideboards: Stylish All-Rounders for Your Home
A sideboard or commode is an absolute must for any interior-design buff, design connoisseur or design fan, but also for anyone looking to create more storage space in their home. Our stylish furniture is perfectly suited to stowing diverse items in the living room, bed room, or dining room. Take advantage of the relatively low top surface to display vases, found items, vacation souvenirs, or framed photos.
Whether it's in your living room, bed room, or kitchen, a sideboard offers a practical solution to storing your things. Not only that, it'll become the visual highlight of your living space – a timelessly elegant sideboard in white or black fits every decorating style and the furniture you already have. It can easily be integrated into any room. Want to make your home feel more welcoming and comfortable? Choose a sideboard from MOVISI. Its floral, organic design will make even large rooms feel less cavernous. As far as its dimensions, your MOVISI sideboard has no limits. Custom design your own personal length, height, and depth as well as the ultimate look of your MOVISI furniture, just as you wish. Looking for a sideboard for your living room or bedroom? Forget about doors and drawers! Openness is the key to bringing order to your room. A win for practicality, open shelving keeps your things visible and readily available.
This furniture's potential is simply boundless. Open shelving is in high demand, becoming ever more popular. In comparison to low- and highboards, sideboards and commodes are more classical. They're usually from just over two feet to just over three feet high, which makes them so diversely usable.
Highboard
Highboards are somewhat taller than your classic sideboard or commode, giving you the option of more storage space. It's a great piece of furniture for the living or dining room – for tucking away plates and platters, for example. Or place a highboard in your home office for files and paperwork that's kept out of the way but easily accessible. MOVISI highboards are particularly stylish in white or black and augment any room with simple, organic, elegant design.
Lowboard
A lowboard is at most two feet high – often much lower – and so significantly lower than a sideboard or commode. Because of its low height and depth, this piece of furniture is particularly well suited as TV or media furniture. In your living room, it provides space for your flatscreen. In a bedroom, at the foot of your bed, it stows essential items away without calling attention to itself.


Records Shelf/Vinyl Shelf
As a music lover, you collect and listen to records and LPs, but that doesn't really encompass the scope of your passion. You're not going to store your LP collection just anywhere. With your love of records and CDs, you're looking for a safe and worthy home for them. With MOVISI furniture, you're not just stuffing your musical treasure in wherever it fits; you're integrating it, literally and visually, tastefully and stylishly, into your living room. This is where form meets function. You can add on to your shelf at any point – imagine that, storage space that's expandable for your growing vinyl collection. MOVISI record shelves truly fulfill your wishes and your demands as a discerning collector.
Office Shelves
In a workplace, you need efficacy and functionality above all. But don't forget the importance of feeling at ease – after all, you spend a lot of time in the workplace. Here at MOVISI, you're in the right spot.
With MOVISI shelves, assemble shelves that match your vision. MOVISI shelves can be arranged in diverse combinations, meaning you'll bring order and a big picture-mindset to your workday, every day.


TV Boards, TV Furniture, Flatscreen Furniture
This is how TV furniture should be: With MOVISI furniture, you create your TV board to match your needs and desires. This is how to realize your ultimate home cinema. Your TV has a secure, stable stand – and MOVISI furniture even has acoustic advantages. Properly implemented, they'll ensure you don't bother your neighbor on movie nights. Of course you can stow more here, thanks to the variability of MOVISI furniture: Other devices such as Blu Ray, a DVD player, surround sound, a Playstation, Xbox – it all fits in your TV board, out of the way but easily accessible. Store your movie collection here, too – after all, your film collection should be able to say something about who you are.
Room Divider
Dividing a room takes finesse – and MOVISI furniture. With our furniture, you'll create a visual borderline within a room without any structural additions or an overcrowded feel. The lightness of our furniture translates beautifully to a room. You'll have the same room, without major changes, but with a visual division. MOVISI furniture fits your room, not the other way around.
You can restructure your spaces like this at any point, on a whim – maybe you need a new work area or your family is growing. What you need is a quick and uncomplicated room divider from MOVISI. MOVISI furniture looks good from any angle. At the office, too, MOVISI furniture creates structure and practical storage areas at the same time. MOVISI furniture is more than a good, all-round good-looking piece. It's practical and carefully conceived. Living with someone who's constantly rearranging furniture? No problem: MOVISI shelves are light enough that you can move even a large shelf easily, without scratching the floor.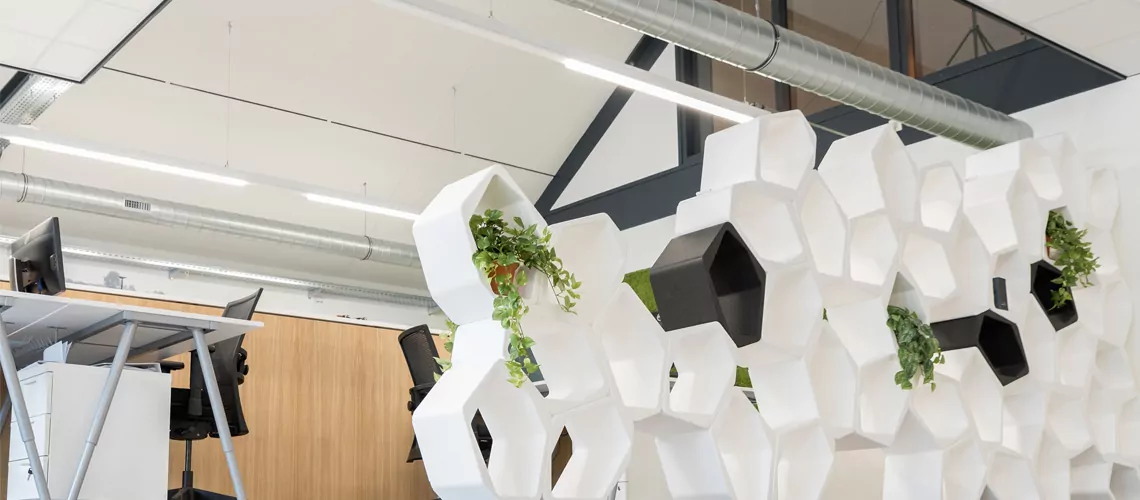 Shelves for Life
A shelf, a highboard, a sideboard, or maybe a lowboard? Sometimes the answer isn't easy. So best choose a shelf from MOVISI, one that's flexible and accommodates you. The answer is clear with a modular MOVISI shelf: change your shelf at any point to fit your needs. We've thought of everything. Our furniture system offers you a range of options whenever you're (re)designing your living space. Should you have a spark of inspiration, or say a move, and need to extend or restructure your shelf – your MOVISI shelf moves anywhere with you! You can disassemble, reassemble, and reshape your MOVISI shelf as often as you like!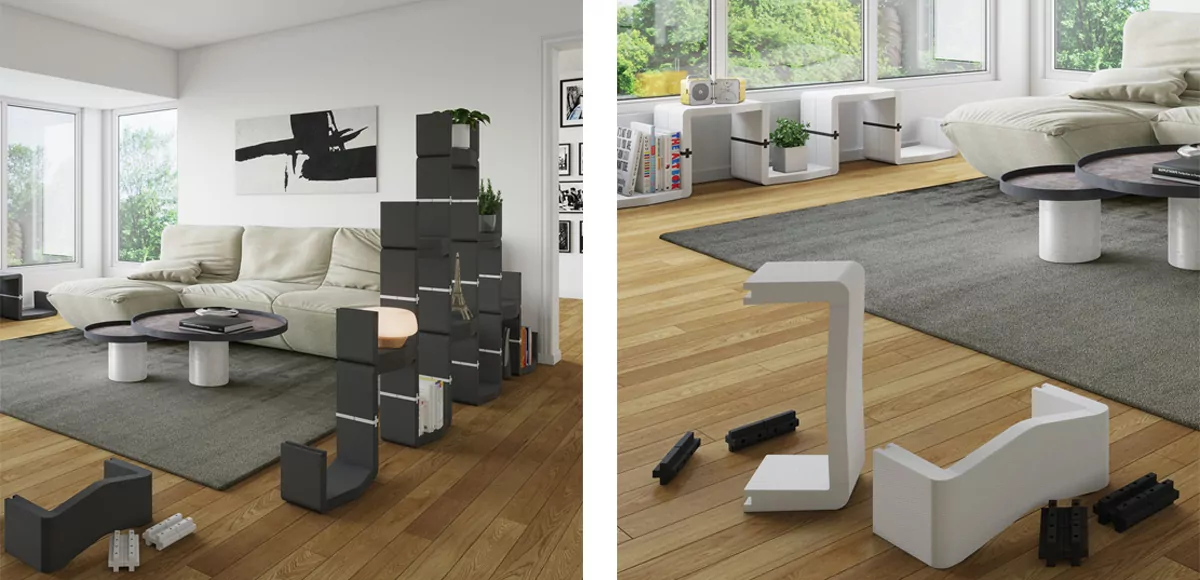 Book Shelves
MOVISI shelves are optimal for book collectors or those who wish to display their books handsomely. It's the flexibility of a MOVISI shelf that makes it an ideal storage space for books. You can add on to this shelf at any time with a new modular piece, meaning at any point you have just exactly the shelf space you need, no more, no less. No need to decide once and for all on one design, one shelf. You decide the dimensions of your shelf. And MOVISI makes it easy to add on to your base shelf at any given point. As your private library grows, so does your bookshelf! If you're a reader, we don't have to tell you: books multiply quickly!
You receive books as gifts or you yourself can't resist buying that fascinating new title you just discovered browsing the bookstore or at the book sale? With MOVISI, it's simple and above all easy to flexibly extend your bookshelf with new modules.


Hanging Shelves, Floating Shelves, Wall Shelves
MOVISI wall shelves, floating shelves, or hanging shelves mount invisibly on the wall and, in contrast to standing shelves, don't require contact with the floor. Beautify your floating shelf with your own personal decor items, making your hanging shelves a room accent. Replace sad, empty walls with individual character. Wall shelves are also a great choice for smaller apartments. Being mounted above the floor, they take up very little space and offer up an accent piece that you can custom design with your favorite decor items. With a MOVISI wall shelf, you'll lighten up any room. MOVISI hanging shelves appear to float on the wall; the design is organic and delicate, a real eye-catcher.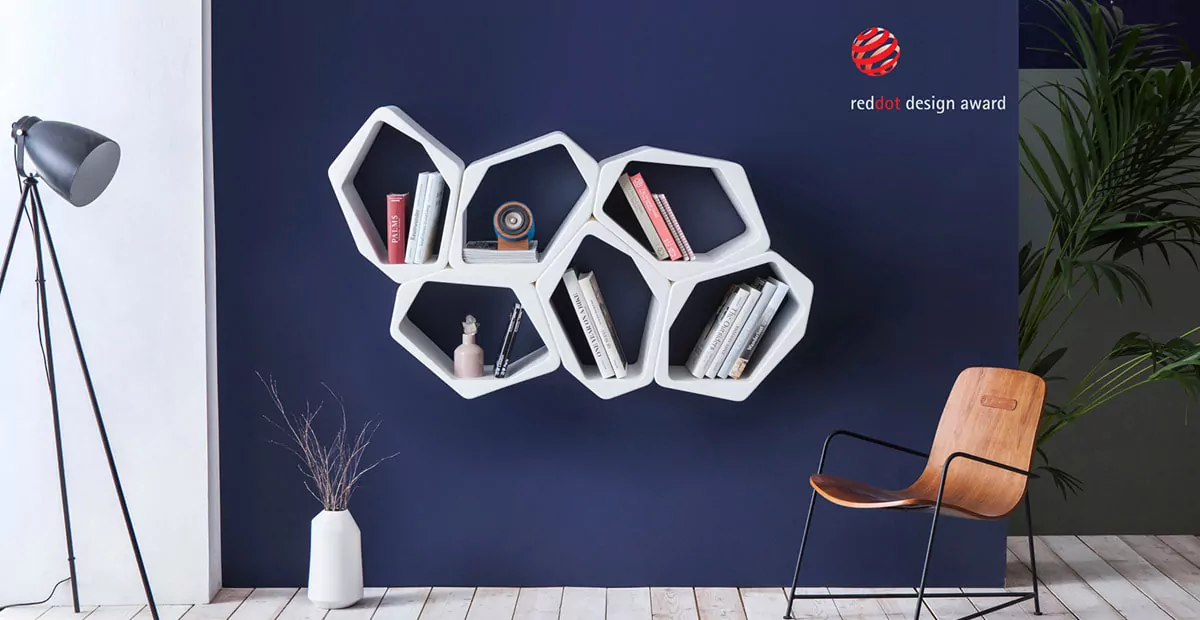 Standing Shelves
Standing shelves rest on the floor. MOVISI shelves can be flexibly configured. You determine the dimensions. You decide on a shelf, we offer you just the shelf you wish, whether it's high enough to touch the ceiling, or a low standing shelf, a highboard, a lowboard, or a sideboard – a white shelf or a black shelf – you decide!
Shelving Systems
Shelving systems from MOVISI are modular, flexible furniture that you can design and extend according to your own needs and desires. Opt for flexible dimensions and a unique design for your shelf. Whether you need a custom bookshelf, a personal shelving system for your bedroom or walk-in closet, or an office shelf, the design possibilities with your MOVISI shelves are boundless.
Bedside Tables
As a space-saving cube, narrow or wide, full height or half, a U-CUBE nightstand fits in the smallest berth, adorning your sleeping chambers with its fresh good looks. You'll build your bedside table in a matter of minutes, effortlessly, without tools! Your MOVISI nightstand is totally in your corner. And no worries about getting your beauty rest: MOVISI furniture has no VOCs, no odor, no off-gassing, no toxins. Promise!
Easy Assembly
The world has become a complex place. That's why we've made our shelves easy enough for a small child to assemble. We do it all on the basis of a single module that gives you endless design possibilities. That's the whole raison d'être behind our shelving systems: You can redesign them at any point. Variable in all its dimensions, one element gives you countless creative opportunities. Each shelf is an individualized piece that fits only you. Assembly is downright simple – truly child's play. Like LEGO for adults. MOVISI shelves will invite you to rethink your living space again and again, without so much as a single tool, without breaking a sweat! This is the way to implement your own personal design vision, over and over again. Give it a try!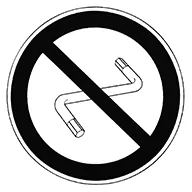 MOVISI Modular Furniture
All MOVISI furniture has a modular quality, first and foremost. This modularity means that all shelves, wall shelves, hanging shelves, record shelves, lowboards, sideboards, high boards, and room dividers fit in any living space. This furniture needs no veneer, no particle board, no glued wood. We don't use any glue that might off-gas toxins and poison your living environment. All while being extremely strong and durable. The organic design offers maximal stability, even augmenting the strength and rigidity of the piece. The modularity and flexibility of your new furniture only highlight the personal notes you give it.
The timeless design and modern look of this shelf means it will find a place in any home.