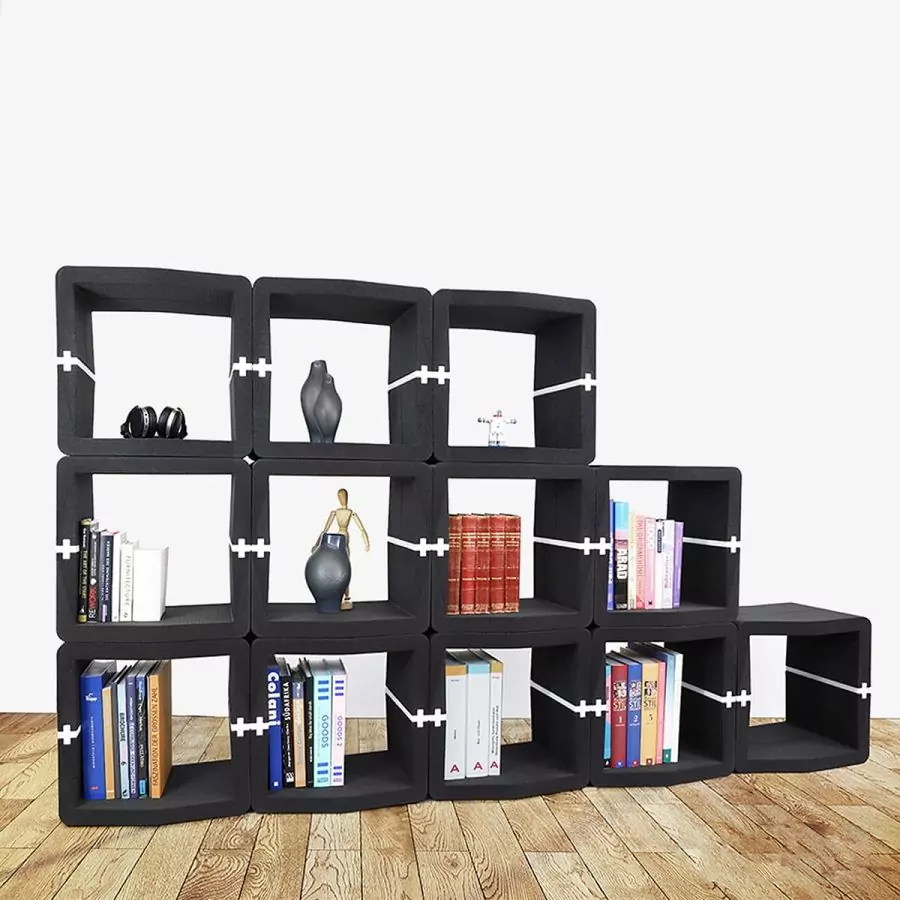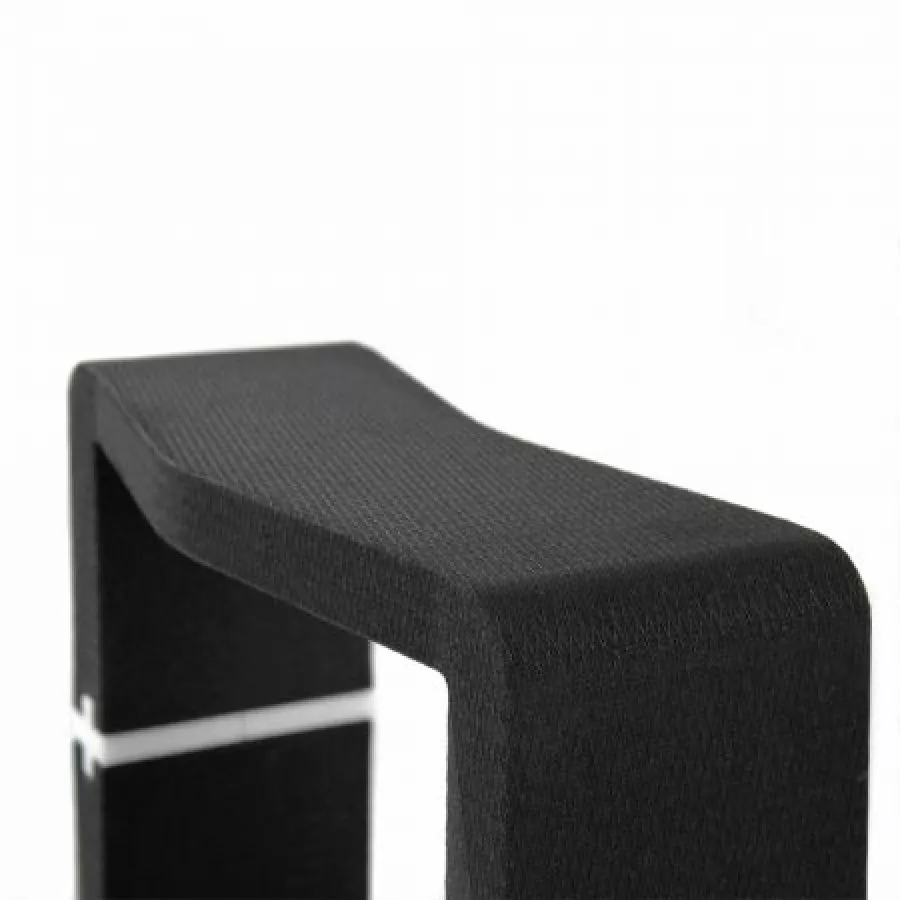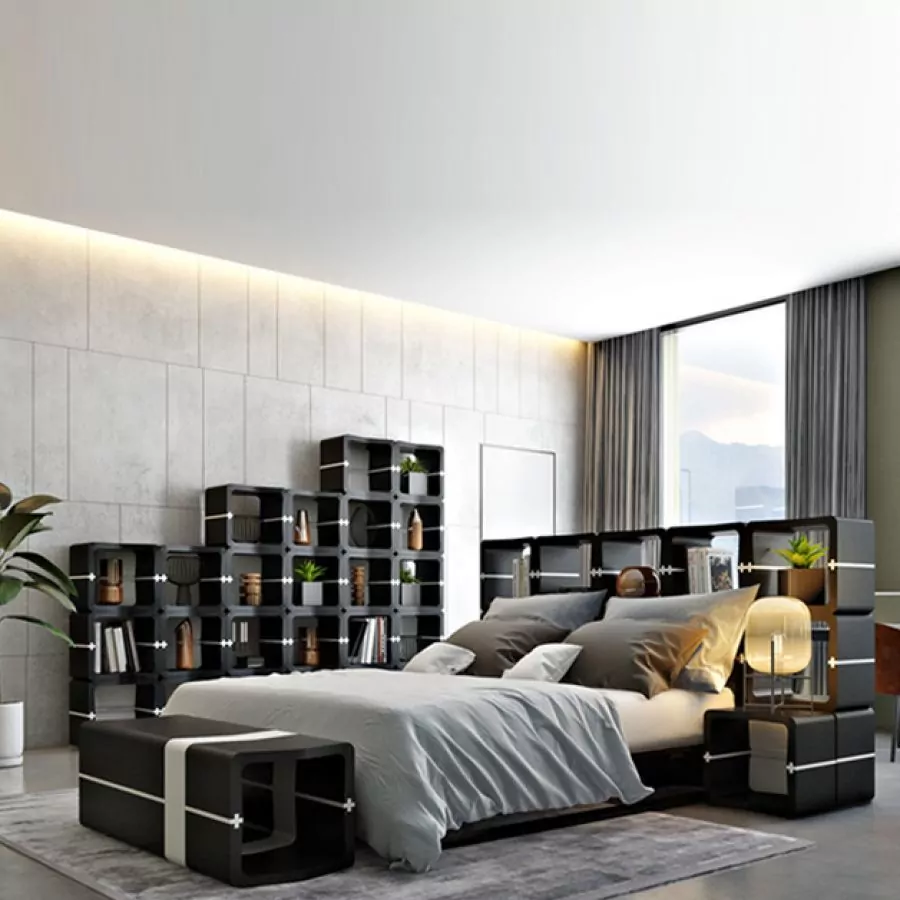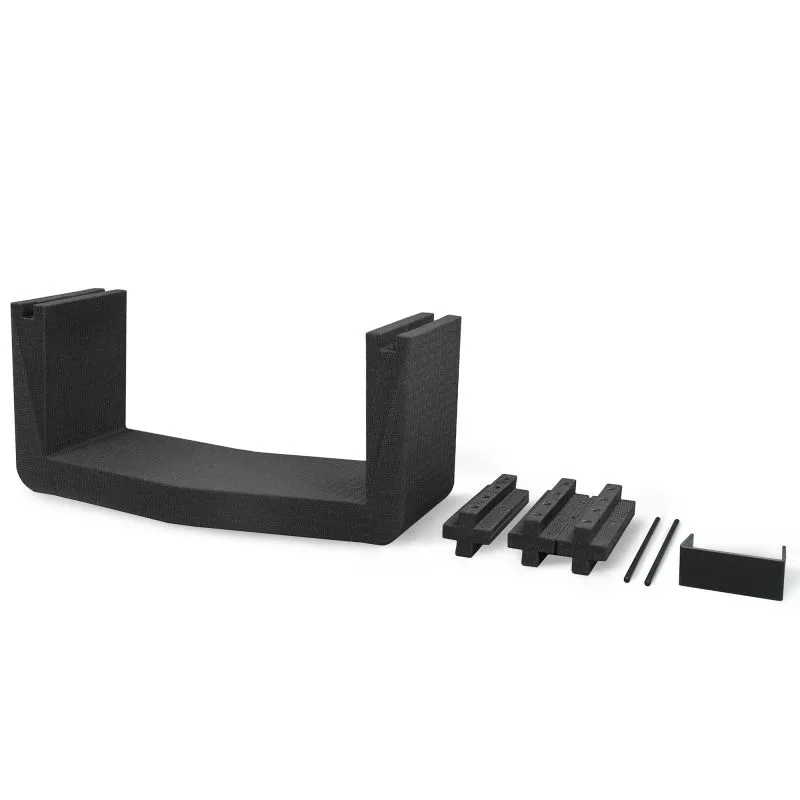 Itʹs Not a Home Without a Bookshelf
A bookshelf or a wall full of books is the focal point of any stylish living room. Weʹll help you realize your vision. Let your book collection shine with a shelf built just as you desire.

Video: Everything You Need to Know About U-CUBE

A Space Thatʹs Just Right for Your Book Collection
Not only does a U-CUBE bookshelf create order from chaos, it also makes a new aesthetic eye-catcher in your home. Forget those ready-made bookcases – youʹre on a better track with us, going for an individual look paired with great design. The U-CUBE shelving system lets you create multiple combinations from just one element; mix it up with the 2 colors, choosing whatever best fits your own personal taste and needs. Our shelves arenʹt limited to certain dimensions – youʹll see how they can be assembled row-by-row, module by module, to any height, width, and depth you desire. Whether you want a straight-up bookshelf or something with a variable depth: The U-CUBE bookshelf is a stellar showcase for plants, family photos, or decorative objects as well as for books of all formats. Want to store your CD collection next to your books? No problem: Build a variable-depth shelf to integrate both onto one wall.

U-CUBE: Always Right, Ready to Grow and Change with You
Book lovers know the phenomenon: Fill a bookshelf with books and the shelves start to sag. Shelves sag all the time. But the U-CUBE shelf from MOVISI holds even heavy volumes for a long time, without sagging. That's because we use expanded polypropylene (EPP) – a feat of materials science. U-CUBE itself is very lightweight, making a structure that has outstanding carrying capacity without the bulk, allowing you to store large, heavy books without sweating the sag. U-CUBE is also extremely resilient. Build U-CUBE up to nine feet high (with proportional depth) and, as for length? YOU choose how far U-CUBE will go – don't hold back! The shelves gain additional stability from the connectors (included, naturally). The U-CUBE shelving system is ideal for building a retail space but also for storing archives or as a modular office shelf that you can easily expand to fit your needs.

From College to Retirement
All Movisi shelves are meant to last a lifetime, so you know it holds true for the U-CUBE bookshelf, too. With timeless elegance, it suits any decor, from a child's room, to a college pad, to the high-brow library. It's suitable for books of all sizes without appearing bulky; it's got an organic look that fits anywhere. The individual modules stack together easily, like Lego bricks, ready to assemble without tools or screws—and last for years.

Ever New, Ever an Eye-Catcher
Rearranging or disassembling your shelf—to move, for example—is no problem with a U-CUBE bookshelf. Since there are no screws or nails involved, you won't have to sweat a complicated process, or worry about stripped screw holes. You Movisi shelf can be disassembled in no time flat and can be rebuilt just as quickly.

Very Adaptable
Change your shelf's shape anytime. It's totally flexible. Don't waste a moment worrying about damage or loss of quality. You could be using your U-CUBE shelf from adolescence to retirement, again and again, anywhere you are, just as you see fit. Toys, clothes, books, dishware, LPs, CDs – almost anything you can think of—no matter what it is, it'll fit perfectly in a Movisi U-CUBE shelf. It's up to you to decide how you'll use your Movisi shelf. This designer shelf is a flexible, modular all-arounder that'll accompany you through every life stage.

High-Quality, Safe, Environmentally Conscious
The U-CUBE shelving system fulfills all standards of quality for safety, fair practice, environmental protection, and sustainability. Our shelves are made and regularly assessed in Germany in accordance with current EU guidelines:
• We make sure that our production process minimally affects the environment
• We make sure that all employees earn a fair wage
• We make sure that all necessary tools are manufactured in Germany

Strong Material with a Good Conscience
It's easy to archive large-format art books, atlases, cookbooks, even file folders—U-CUBE accommodates any size!
Our emissions are near 0. We aim for a high level of environmentalism in our manufacturing and shipping processes, as well as fairness for all employees. Rest assured you're getting a sustainable, long-lasting, timelessly beautiful shelf, one made without exploitation of man, animal, or environment.

U-CUBE Bears Up Under Your Books or Files
A U-CUBE bookshelf meets the highest demands with modular flexibility and endurance. The shelf modules can be varied and added on to, to meet your own personal vision. Freedom of expression: There are no boundaries—beyond your own four walls, that is. Whether you want to store paperbacks or display coffee-table books, all can be organized in our cubes. Got files? Not a problem for U-CUBE.

What Kind of Books will My U-CUBE Shelf Hold?
Our cubes are ideal for any type of book or file. How can that be?
You determine the depth of your shelf, with total flexibility. You can increase or decrease the depth any time. You won't get this much freedom of design with any other shelf. There's no need to map out what you're going to build—just test out your modules in your home as you receive them, spontaneously arranging and rearranging them until you have what you want. If it turns out you didn't order enough, no problem, you can always order more—they'll arrive within a few days.
Whether it's large, hardback books like atlases and coffee-table folios, or magazines and newspapers—even files and vinyl records—it all finds a place here.

1 cube of U-CUBE (4 modules)
Exterior dimensions (L x W x H): 18 7/64ʺ x 17 11/64ʺ x 13 13/16ʺ

Interior dimensions (L x W X H): 14 9/16ʺ x 13 31/32ʺ x 12 19/32ʺ
If youʹre seeking a shelf for small paperbacks or the like, choose the one-module depth.

1 cube U-CUBE (2 modules)
Exterior dimensions (L x W x H): 18 7/64ʺ x 17 11/64ʺ x 7 1/2ʺ
Interior dimensions (L x W x H): 14 9/16ʺ x 13 31/32ʺ x 6 1/3ʺ

Flexible Bookshelves
No more limitations imposed by pre-determined dimensions and a single intended purpose. Maybe at some point youʹll give away your book collection and start over… with Movisi, you wonʹt need an entirely new shelf; just use what you have, perhaps only adding onto the depth of your shelf.

Of course you can also store magazines, newspapers, and comic books in U-CUBE. There are countless design possibilities, allowing you to create a bookshelf tailored to your own personal wishes, from the price to the finished measurements.
Discover Your Own Individual Style
Bookshelves from MOVISI grow as your book inventory grows. No need to decide once and for all on fixed dimensions of height, length, and depth, which you first have to select to accommodate your base collection and then quickly run up against a standard shelfʹs capacity. With MOVISI, on the other hand, you have actual and total control of the design and assembly of your shelf! Your book collection is growing? No problem! Our bookshelves grow right alongside your passion and can easily be added on to with new cubes—until you have the ultimate wall of books.

The Perfect Bookshelf for Every Scenario
Access Underused Space
Because our cubes are modular in design, youʹll be prepared for future moves. Conquer even difficult areas like under the eaves or staircases with your modular shelving system from MOVISI. With its adjustable height and length, U-CUBE will easily fit anywhere.

Assemble, Modify, Just Be Different
The Best Shelf for Any Decor Style
Bookshelves from MOVISI put your library, book collection, or files in the right light, whether in your private quarters or a public space. The modular design means our shelves fit just as easily in a homey living room as they do in a busy retail space. Just take a look for yourself. If you happen to decide that your bookshelf would look better in the hallway than in the living room—or you want to mix it up and have a room divider, instead—count on Movisiʹs modular innovation. Our furniture is childʹs play to rearrange and repurpose: A living room bookshelf becomes a wall shelf or a bookcase for a childʹs room in the blink of an eye.

My bookshelf is tall. Do I need to stabilize it on the wall?
Our shelving system for books is very stable and the chance that itʹll tip over is very low, when youʹre using 2 U-CUBE halves side-by-side. To be on the safe side, we sell an optional wall fastening for very tall shelves. Simple screw this into the U-CUBES and the wall. Of course, you should always use the included connectors to affix the U-CUBES to one another horizontally. Your bookshelf will be stable.

How will my new shelf be delivered?
U-CUBE is delivered unassembled, but donʹt worry, itʹll simply be a module and two connectors. Assembly is easy as pie, without tools, just fit your U-CUBES together according to the easy instructions. By the way: All orders arrive by DHL Go-Green—and all shipping within Germany is free.
Delivery includes:
48 x U-CUBE modules in black or white
12 x Single-plus-connector in black or white
18 x Double-plus-connector in black or white
48 x stabilizing rods (needed only when used as seating)
8 x U-Clip in shelf colour (min. order 2 U-modules)
DIMENSIONS
Length: approx. 74ʺ
Height: approx. 51.5ʺ
Depth: approx. 12.5 - 14ʺ
 
Material
U-CUBE is made with 100% recyclable and emission free Expanded Polypropylene, It is allergy friendly, toxin-free, emission-free, high versatile and has an excellent strength to weight ratio. The material is waterproof and resistant to chemicals and, because it is 95 percent air, extremely lightweight .

You can hardly damage U-CUBE. Even if you were to bash it with a hammer, no worries. That's because ARPRO EPP contains billions of closed air cells that absorb the impact before returning to its original shape. Next, when you move it about Movisi furniture will not scratch even the finest hardwood floors or damage walls if you happen to bump them. This means that the material is also safe for children.

 
Sustainable and eco friendly furniture for a healthy interior
U-CUBE is allergy-free, emission-free and toxin-free.
We care about the people and the environment, that's why U-CUBE is entirely made in Germany and is 100% recyclable.
100% Made in Germany. Manufactured in a socially and ecologically responsible way.
 
Easy to clean
Just wipe with a damp towel. It couldn't be easier. U-CUBE does not support microbial growth.  If you are really serious about cleanliness, in fact, you can disinfect or even sterilize the furniture with steam. Although U-CUBE generally reacts well to aggressive chemicals, it is advised to always clean using a water-dampened cloth with a mild detergent. Avoid abrasive cleaning agents.
COLORS
Main module: available in black or white
Modular connectors: available in black or white
 
DESIGN
Marine Peyre in collaboration with Trickform.