The sustainable furniture online shop for modular shelves, bookcases, room dividers and seating.
✔ Worldwide shipping ✔ 100% Made in Germany ✔ Easy & tools free installation

Flexible furniture systems that adapt to your needs. Design your custom modular bookshelves, floating shelves, modular room dividers and flexible partitions at your workplace or in your home office. Multifunctional and smart furniture, sustainably made in Germany.
Eco-friendly & safe furniture
✓ Toxic-free
✓ Emission-free
✓ 100% recyclable
✓ Ultralight and durable
Flexible & tools-free furniture
✓ Endless possibilities - create beautiful
and functional interior settings and
change them anytime.
✓ No tools or know-how needed.
We promise.
100% furniture Made in Germany
This way we can guarantee best
quality, environmentally
responsible production and fair labor.

Design your workplace or home office with flexible, stylish and modular furniture.
Quick to construct and quick to change with no tools involved.
Modular bookcases, wall shelves, room dividers, and seating systems.
---
What our clients say and do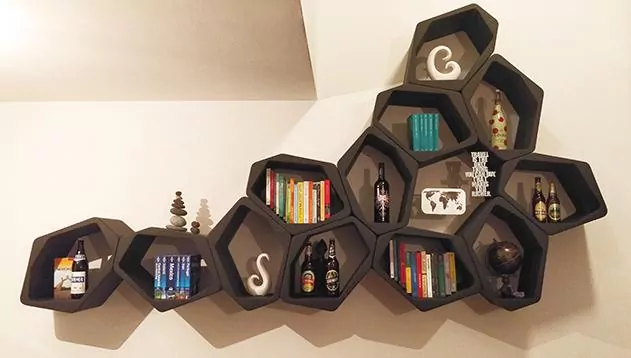 "Thanks for the great customer support and for the wonderful shelves.
Every visitor who enters my apartment is simply amazed"



"These are so cool. Easy to put together and so light weight. Personal touch from the seller upon arrival.
We'll definitely order other items from them in the future" Dacia C, CEO The Marketing Blender, USA.



---
Award-winning Movisi modular furniture:

NEWSLETTER
Register for the MOVISI newsletter now. Your data will not be passed on to third parties. You can unsubscribe at any time - find out more.
---
All prices are in Euro including VAT. Delivery costs are calculated during checkout, before payment. 16% tax will be deducted automatically for outside EU purchases.
---
Use MOVISI modular furniture systems in your home office to create a flexible workspace for every need
If you work from home, you know it's essential to establish a dedicated space solely to work purposes. This is a cinch with shelves and room dividers from MOVISI, elements that are child's play to assemble, without a single tool. Your home office should be a private space screened off from the rest of the home where you can retreat for concentrated work.
MOVISI modular furniture will enable you to switch easily into work mode at home
The first step is to design a dedicated workspace. Use an entire room as an office space, if you can, or repurpose one as an office. If you don't have an entire room to use, you'll need a room divider to separate your workspace from the rest of a room. MOVISI shelves and room dividers are made for this! Our furniture is lightweight and versatile and, in addition, will lend natural light to a space. It's the best way to create a dedicated workspace in your living room, bedroom or guest room, for better design and better concentration.
Provide your home office with natural light
Light actually increases productivity, for you'll be more concentrated and complete tasks more quickly. In addition, sufficient light makes a space feel comfortable, elevating your mood and creative juices.
When you're hunched over a laptop in a space that's too dark, you risk headaches and other complaints, such as a simple lack of motivation. MOVISI furniture is designed with light in mind: it lets light through and itself appears light and airy, meaning you'll need less artificial illumination for your workspace.
This means you can easily create a clear visual separation from the rest of your living space, a room within a room where you can conquer concentrated work.

Movisi specializes in manufacturing eco-friendly modular furniture which is light and flexible
Modular shelving, seating and flexible partition systems, room dividers and living accessories for modern homes, workspaces, trade fairs, events and other environments where flexible or temporary solutions are needed.

Easy Assembly
Assembly is simple and quick and requires no tools or special expertise.
The modular furniture shop by Movisi offers a fine selection of flexible and modular shelving, partition, seating and living accessories for modern homes or offices. Quick and easy to set up, without any tools.
Modular Shelving, bookshelves, storage systems, bookcases, hanging shelves, a customizable wallpaper, table legs, lighting, lamps, and living accessories such as a magic mosquito canopy. A selection of great design products that fit into a modern interior design space.

The furniture design shop by Movisi offers modular designs from cutting-edge designers
Furniture, partition, shelves, bookcases, chairs, modular sofas, lighting and lamps, tables, outdoor furniture, bathroom and living accessories, designed and supported by renowned designers like Karim Rashid, Ron Arad, Peter Marigold, Ton Haas, Ronen Kadushin, Feek, Marine Peyre, Nils Bennett, e27 or Znak as well as young design talents such Paul Blease, Jack Godfrey Wood or Tom Ballhatchet.

Explore the light and modular furniture design we offer and browse through our inspiration gallery to see interior design solutions and office design ideas. Stylish office furniture by shop.movisi.com
Great furniture design and flexible interior design solutions for your home or office.
In the modular furniture shop by movisi.com you will find modern furniture such as modular chairs, stylish tables, modular shelves, sofas, selected living accessories and many other types of furniture for your living area or office. Unique designer furniture and accessories will make your home or office a unique and flexible interior to live and work in.
Movisi offers worldwide shipping.

Office interior and flexible workplace design at its best
Our clients Google, Ferrari, BMW, Bacardi, BASF, BBC, Philips, Siemens, the UN (United Nations bookshop), Virgin Atlantic, Vodafone or Volkswagen use the light modular shelving and partition systems of Movisi in their new modern workspace and open offices.

You can buy most of the design furniture in our furniture online shop by shop.movisi.com For other products and interior design projects please contact us.
Most of our products are in stock and can be shipped quickly. Movisi provides you with the highest quality standards: all our furniture is manufactured in an environmentally friendly way here in Germany.

Modularity - we're crazy about it!