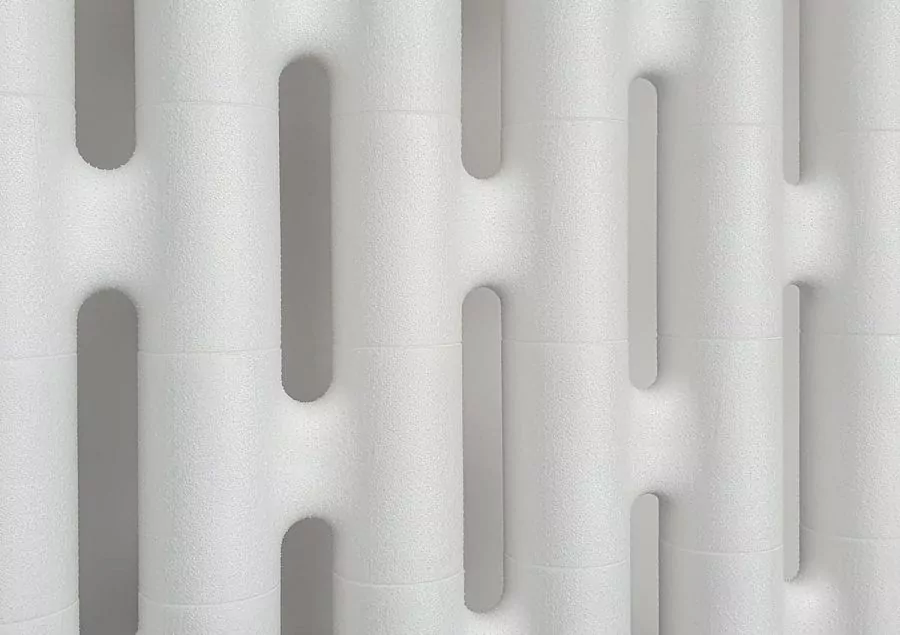 Use your space freely - with a flexible and modular room divider system
LINK is a freestanding room divider system for a range of interior settings like open-plan offices, home offices, event setups, exhibitions booths and fairs.

Browse below for LINK room divider details, photos, and room divider ideas. LINK is available in black and white.
If you're interested in a custom solution or colour, please contact us. By request, we sell LINK in silver-gray, magenta, orange, green, blue, and yellow.

Designer space-making for everybody
LINK modular room divider was designed by PearsonLloyd, who have also created for Lufthansa and multiple British cities seeking innovations in wayfinding and public art. Their specialized focus on functional elegance makes the LINK partition system a profoundly simple and innovative solution to space-making in a home or office.

With this easy partitioning system in hand, you'll find yourself seeing new opportunities for creating novel, attractive spaces within your existing rooms.

An easy to install partitioning system
There are no tools involved, no hardware – you won't even need instructions for these intuitive stacking modules.

The rise of the home office has brought about an increased need for private home office space. It is clear that not everyone has a separate study or room which they can dedicate just to work.
With this flexible and modular room divider you now have the option to divide your living room or bedroom and enjoy more privacy.


A room divider for your home office - create your individual space with your customizable room divider
The LINK room divider provides a stylish, flexible and affordable solution for increased privacy. You can easily rearrange the room divider configuration as your needs change or simply store them away.

You can always create new configurations or spaces when you're done working for the evening. This temporary and modern room divider is a great alternative to standard, unattractive folding room dividers and screens.

If you're looking for the perfect room divider to help you get more work done at home, this freestanding, DIY room divider is for you.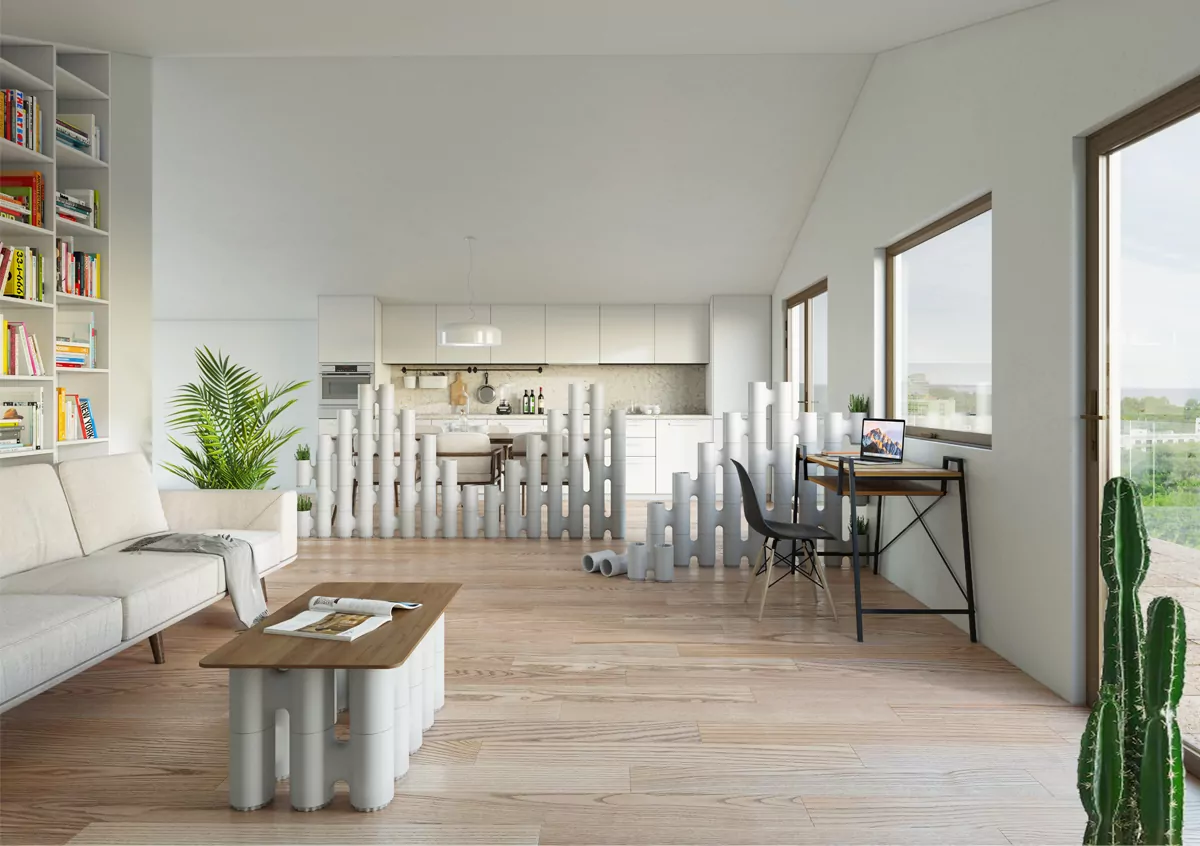 Space for creativity: design your custom table, straight or curved partition walls to separate areas or create new rooms and functions with this modular room divider.
​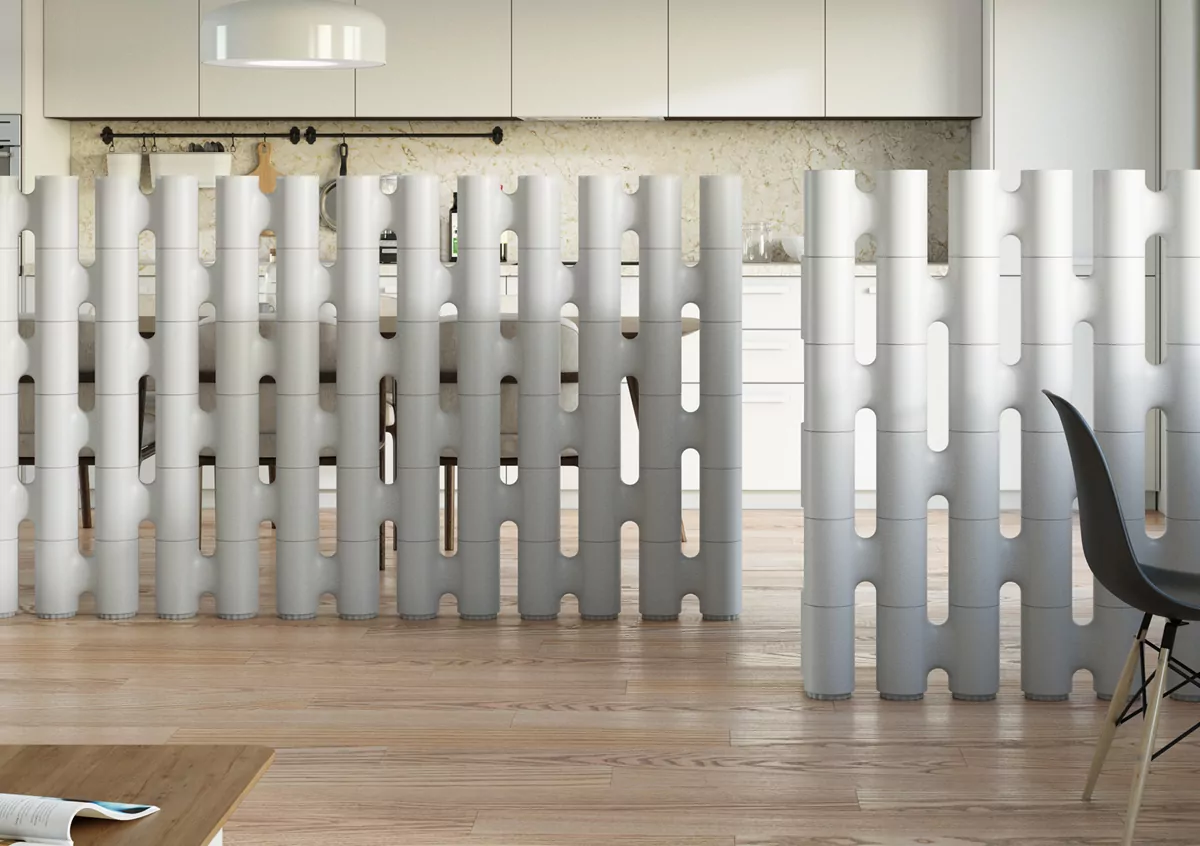 Dining room divider ideas: create light and stylish moveable partitions to separate your dining room, living room or home office.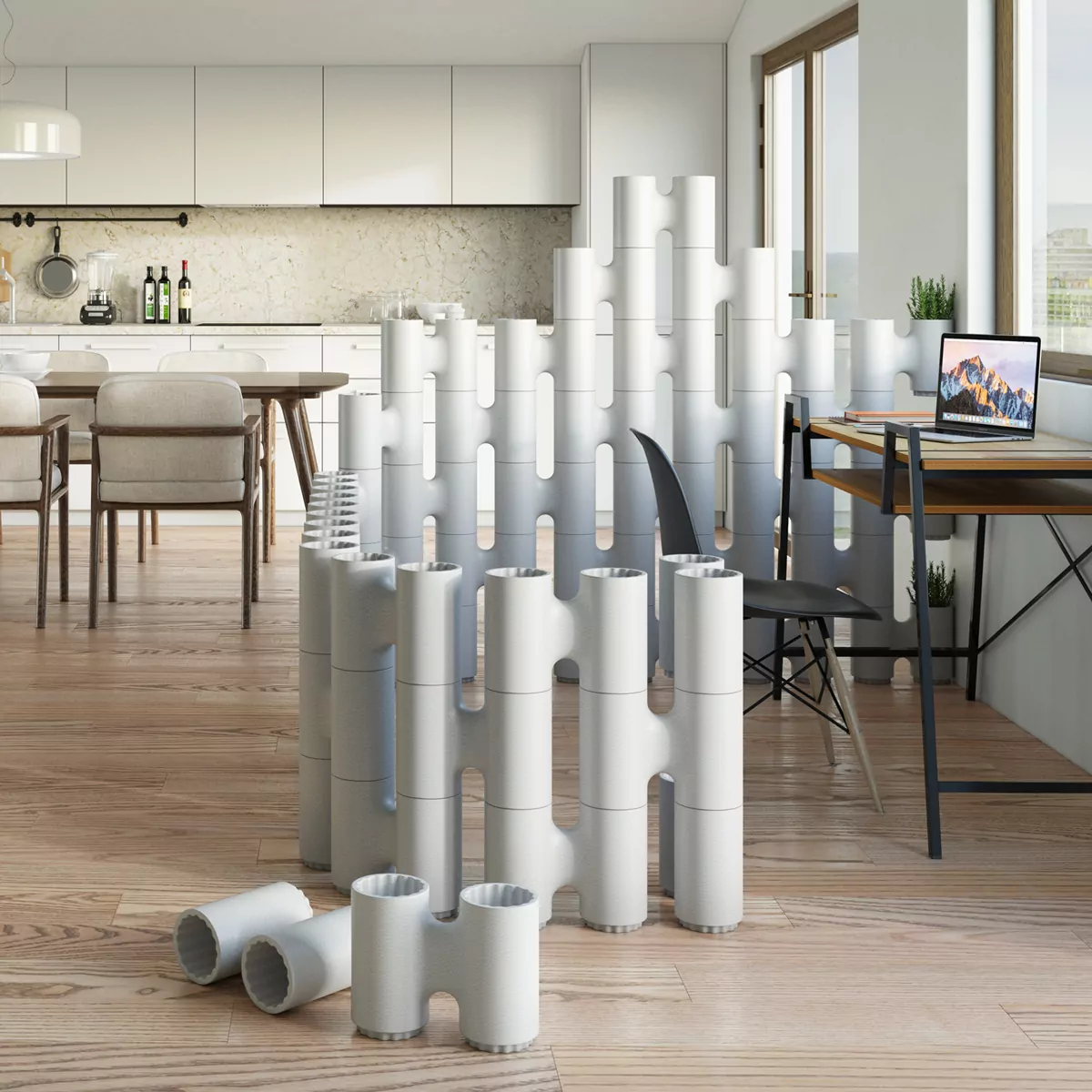 The modular room divider units are easy and quick to assemble. No tools or know how is needed. You can rearrange the configuration of your divider screen in minutes.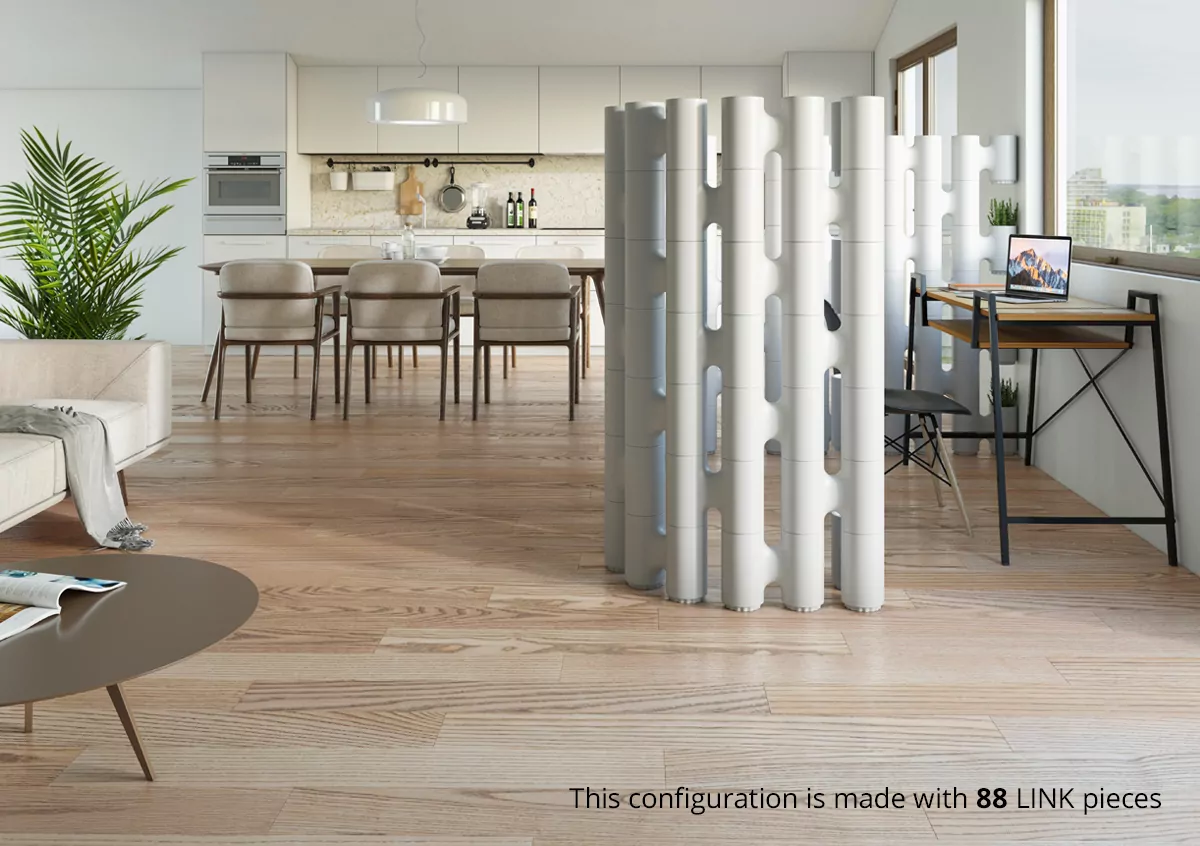 The LINK partitioning system is multifunctional and lets you create your custom coffee table or an organic, round shaped home office area - a defined workspace with increased privacy that reflects your personal style.
Living partition walls that add to a space

Hall partition ideas: The LINK screen divider is used at the Mediatheque in Saint Malò in France to separate and create entire areas for different functions.

When built, LINK's perforated form lets natural light flow through.

Its peekaboo perforations and sleek lines, built curved or straight, extend an invitation to the curious.
What's behind this screen? Is it a home office space, a chill-out zone, a compelling exhibit?

Move and reform the entire room divider easily – each unit weighs about 200 g, or less than a half pound.
A simple 2-meter high x 1-meter wide partition weighs just a little over 6 kilograms or 13 pounds – enough to stand firm but be moved on a whim.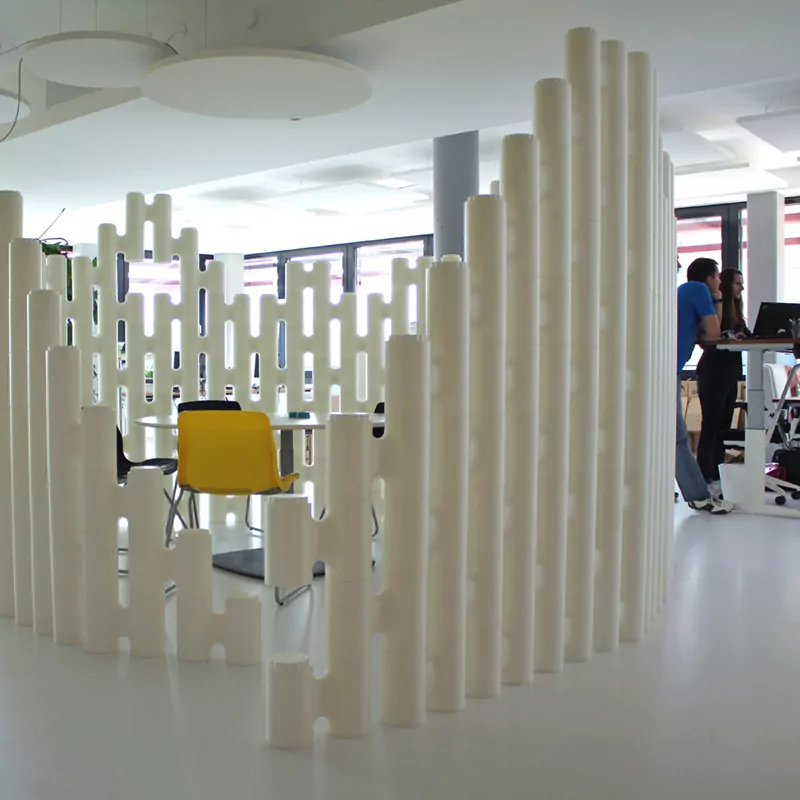 The modular partition walls allow you to create your custom shaped and sized meeting pod, whenever and wherever you need it - a flexible room divider for open-plan offices.

The flexible room divider solution - from office to lounge to event and back again
LINK's multifunctionality is ideal for offices of any size. It's perfect for centralized offices that need to effectively separate many employees from each other or from distinct work and lounge areas, without being cold or industrial.

The DIY room divider LINK can also be scaled down to home office use, where it adds an artful touch to a workspace carved out of the living area. It's a way to create focus areas with warmth and playfulness, a way to encourage creativity and well being in large and small spaces alike.

A flexible DIY room divider for public space, offices and residential areas
While the LINK partitioning system performs well under static conditions, the fun of it is in its modular construction.
At the drop of a hat, you can reform your area with these sleek partitions. They are living elements that actively add to a space, instead of subtracting from them like many walls.

LINK is used by museums, exposition organizers and event planners to create compelling spaces for reflection and engagement. What better way to structure your event, own home office or living area?



Build your custom freestanding round room divider in black for your next, exhibition, booth or event. There are no installation costs as the modular room divider is extremely easy and quick set-up.

Dimensions and Examples - LINK room divider modules
How much LINK will I need?

Each LINK unit is 288 mm W x 216 mm H x 120 mm D (200 mm H when linked).
In inches, that's 11.3" W x 8.5" H x 4.7" D (7.9" H when linked).

20 LINK units are required to build a 1.5 square meters / 16.2 square foot wall.
15 LINK units are required to build a 1 square meter / 10.8 square foot wall.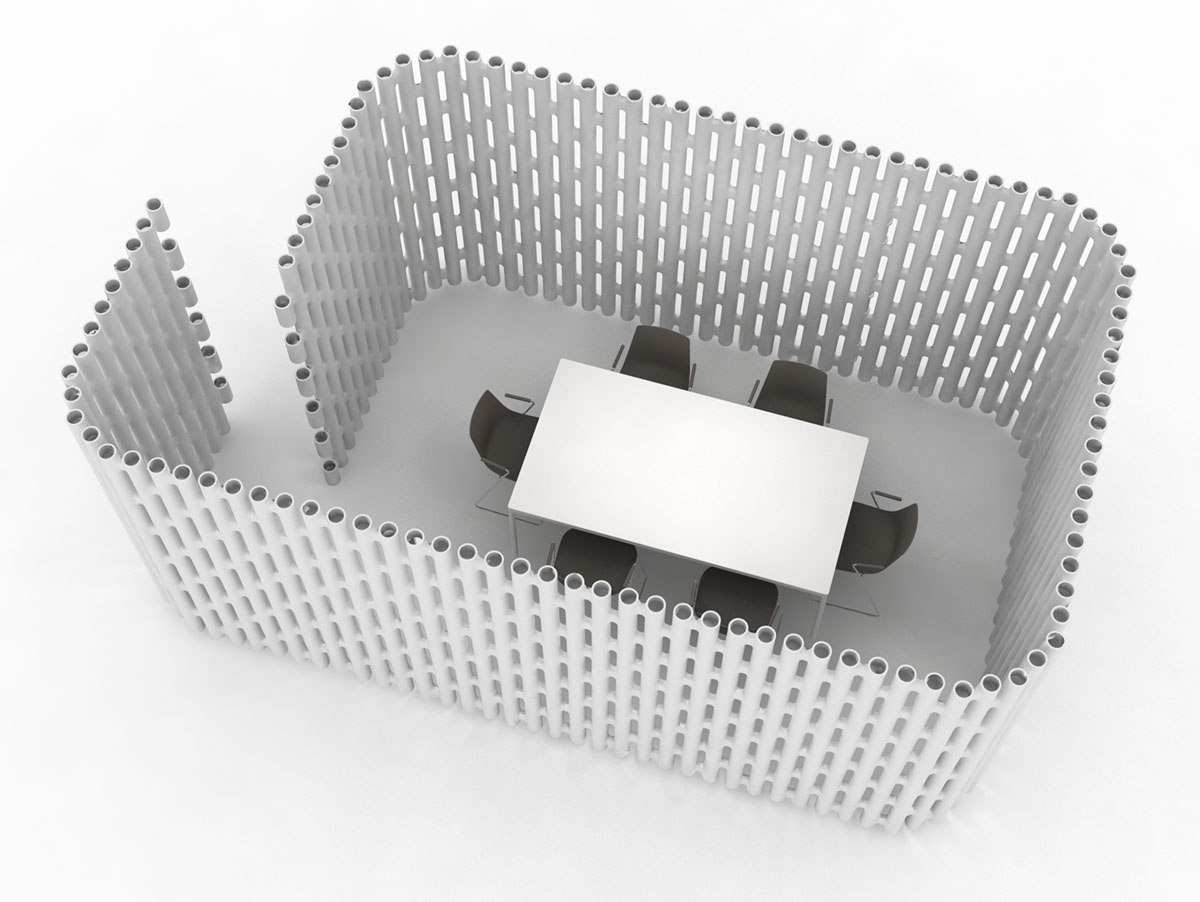 Picture above: rectangular office meeting pod: a simple, curved-corner meeting space accommodating a table and 6 chairs and extending over 6 feet high requires 672 LINK units.

Each LINK unit weighs 200g or 0.44 pounds.
In the example above, a 1 square meter/3.3 square foot wall weighs about 3 kilograms/6.6 pounds.
A simple partition about 2 meters/6.6 feet high and 1 meter/3.3 feet wide weighs about 6 kg/13.2 pounds.




Divide and separate individual workplaces in the office with this moveable and modular screen divider.

Create a colored room divider - with LINK filler plates
As a base unit, LINK is available in black or white. Talk to us about additional colors.

The design possibilities with something as versatilely conceived as LINK are almost endless, as is, but we do also offer colored "filler plates" to match corporate colors or individual creativity.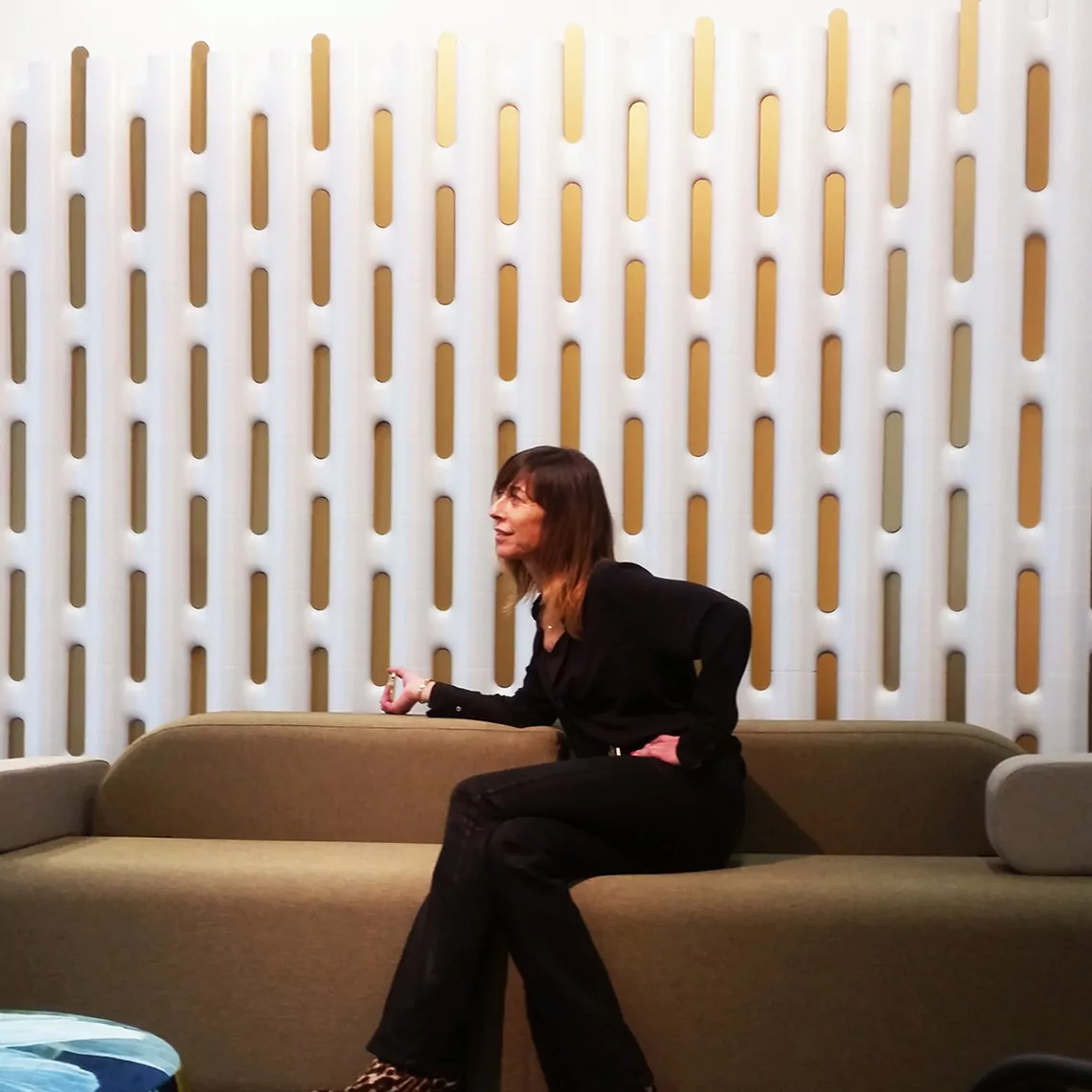 The custom filler plates are easy to remove and rearrange on a finished LINK partition and can provide the acoustic or privacy qualities you're looking for.
They are made from flat honeycomb cardboard covered with a soft premium film with in matte or glossy.

Our innovative and environmentally friendly furniture manufacturing process
LINK is 100% manufactured in Germany, start to finish, from just two ingredients: expanded polypropylene (5%) and air (95%).
It is essentially a solid-state foam, one that is 100% ecyclable, toxin-freen, emission-free, hypoallergenic, shock absorbing, and extremely lightweight.

LINK fits into Movisi's lineage of easy-care, durable furnishings that can be wiped clean with a cloth and disassembled and reassembled infinitely, without wearing out. Should one unit break or stain, you can easily replace just a single component without ordering an entirely new piece of furniture.
Recycle and replace single units, and you've completed the environmentally friendly production cycle.

This emphasis on environmental standards, from the conscientious manufacturing process that operates along local, lower-emission lines, to a recyclable end product that can be utilized for years to come is essential for the way we live now.

Whether you're an employer seeking an eye-catching, reusable element for trade fairs or a freelancer seeking to conform your home office to your free-thinking taste, LINK fits in where you need it, again and again, while respecting earth-friendly demands.

Temporary Room Divider Ideas
Have a look at some of our clients' room divider ideas below.
Another way to add even more life to your room partition is with living plants. With a little creative shaping, LINK houses standard flower pots for colorful, air-purifying accents.

Office interior design creativity: With modular room divider units in black and white, mixed with plants, warm lights and accessories will turn your office into a creative and green office jungle.




Create modular divider walls for your exhibition booth, a table or desk with the LINK freestanding partition modules– simply add the work surface of your desire. The hollow LINK units are a great way to house wires.

Inherently shock-absorbent and durable, LINK ships loose in large cardboard boxes that can easily be reused for subsequent transport. Build and disassemble a trade-fair booth or an event screen as quickly as you can stack and unstack.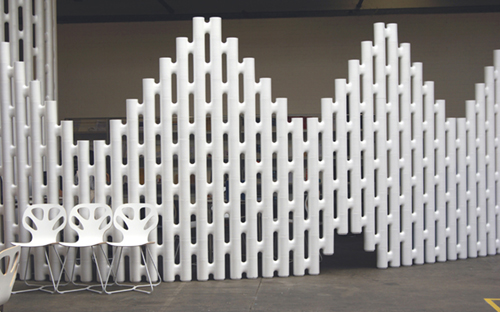 Use the flexible LINK room divider wall as a backdrop for retail spaces and window displays. It adds visual interest to these areas and can disguise wall faces and add a futuristic flavor to any item.


With its perforated design, the flexible LINK room divider can reflect colored and natural light to great effect.
Strategically place a white LINK partition at a picture window to catch sunlight, or position colored artificial lights at its base, atop its edge, wound through its links– there's limitless potential here.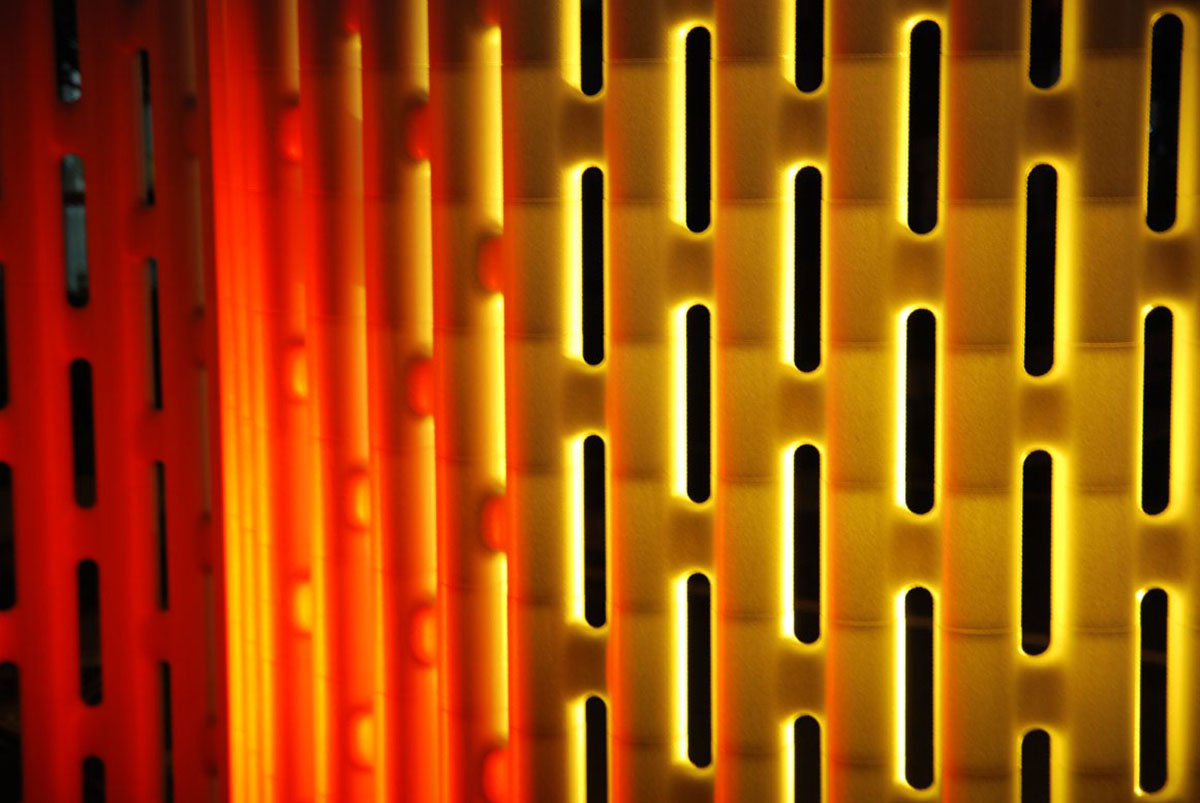 Delivery includes:
20 LINK modules in white, black or green.

Colors and Variants
Available in black or white. All variants are fully compatible with one another.
 
Dimensions
Size per LINK unit: W 288 mm x H 216 mm x D 120 mm (H 200 mm when linked).

15 pieces of LINK are required to build a 1 square meter wall.

Weight: 200g / 0.44 lbs per unit

Colors: available in black and white.

Design: PearsonLloyd

Manufactured in Germany
Material
LINK is made with 100% recyclable and emission free Expanded Polypropylene, It is allergy friendly, toxin-free, emission-free, high versatile and has an excellent strength to weight ratio. The material is waterproof and resistant to chemicals and, because it is 95 percent air, it is extremely light in weight and therefore flexible and mobile.

You can hardly damage LINK. Even if you were to bash it with a hammer, no worries. That's because ARPRO EPP contains billions of closed air cells that absorb the impact before returning to its original shape. Next, when you move it about Movisi furniture will not scratch even the finest hardwood floors or damage walls if you happen to bump them. This means that the material is also safe for children.

Resistant to bacteria and more: LINK is unaffected by exposure to oil, grease, petroleum and most common chemicals. It does not support microbial growth. 

Easy to clean: Like water off a duck's back, LINK fends off dirt, spills, stains of all sorts. Just wipe with a damp towel. It couldn't be easier. If you are really serious about cleanliness, in fact, you can disinfect and sterilize the furniture with steam. Although LINK generally reacts well to aggressive chemicals, it is advised to always clean using a water-dampened cloth with a mild detergent. Avoid abrasive cleaning agents.
Does not attract dust, so you will need to clean very rarely.
Mix and match
All units are compatible.