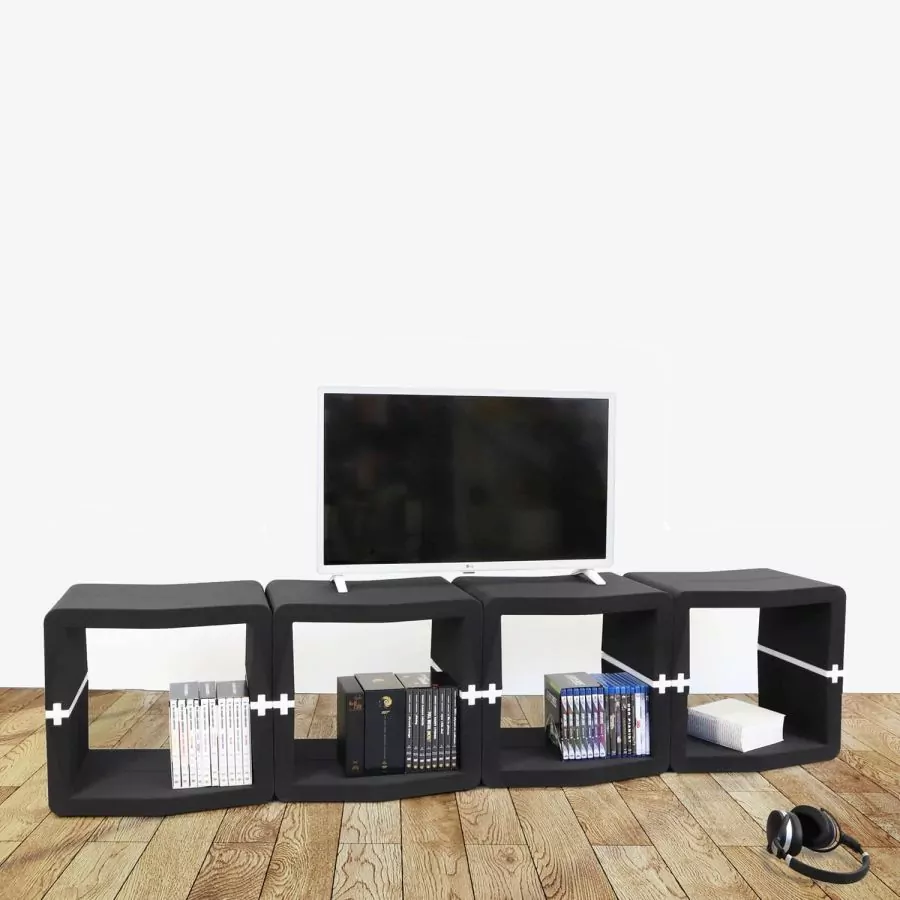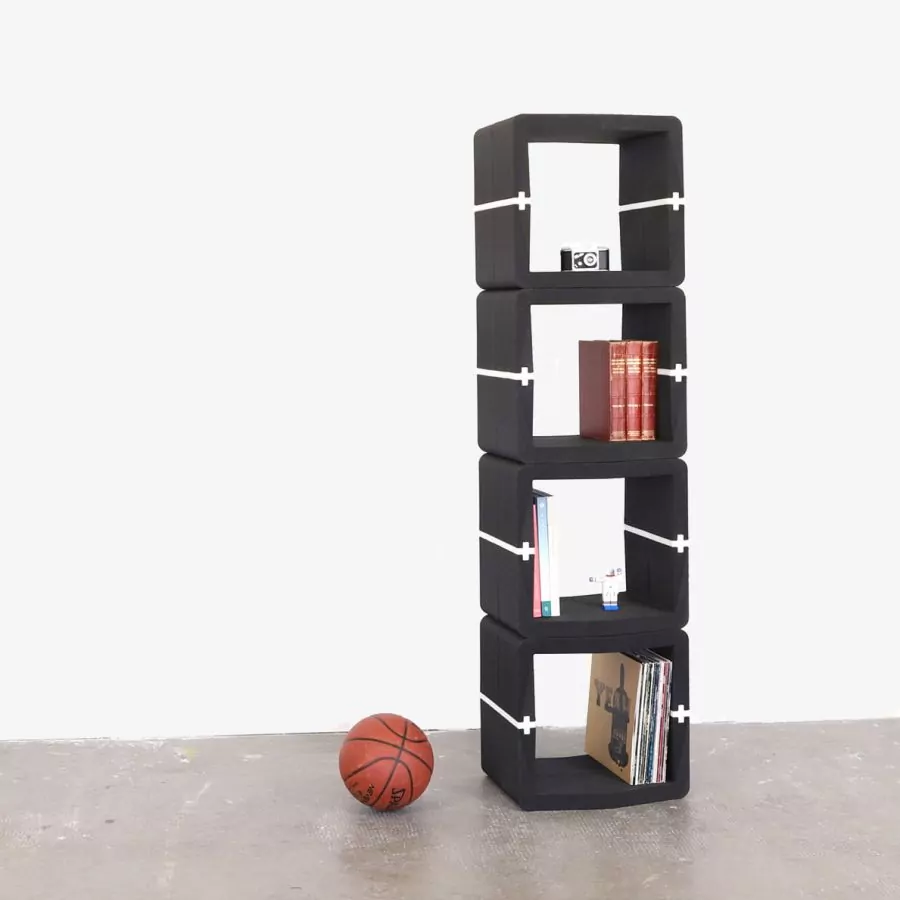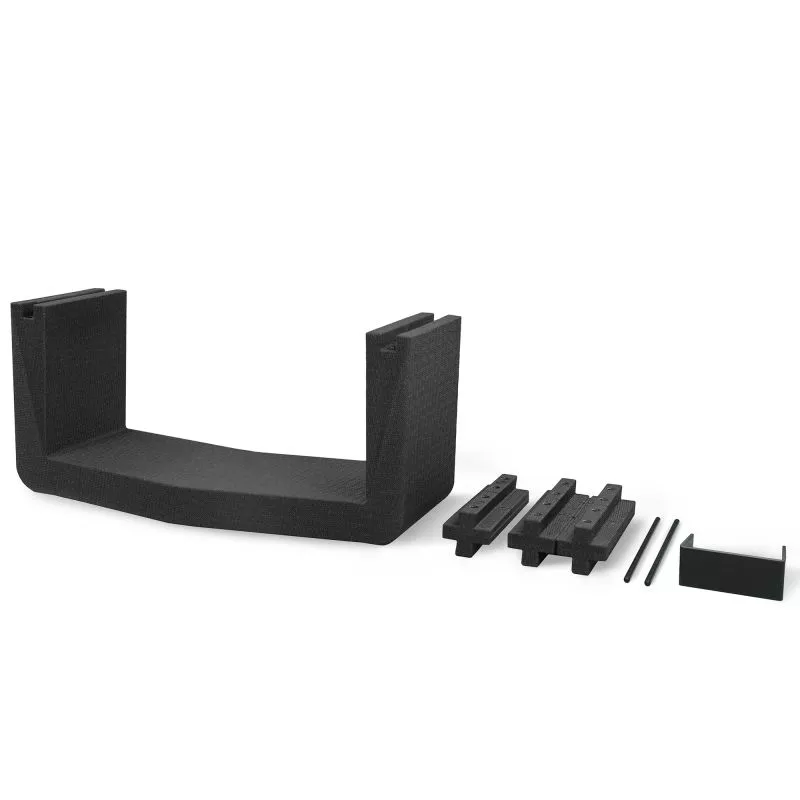 The Low Shelving – a flexible and stylish TV stand and entertainment center
The modular TV stand and media shelf is THE modern piece of furniture for today. It used to be that TVs were hidden, closed away in cupboards. Now, the most modern look is situating flatscreens on very low shelves. With its multi-functionality, the U-CUBE shelving system offers you new options. The customizable potential of the U-CUBE, with its high-quality design, means you have a range of new possibilities.
Video: Everything You Need to Know About U-CUBE

Flat, Practical, and Fit For Your Needs
Your U-CUBE TV stand is far more than just a storage area. Build it how you wish – you determine the design. You can now decide for a level TV stand or one with one high end or with symmetrically elevated ends. The good thing about U-CUBE is you can always rearrange its elements and fit the furniture to your needs.
This means you not only have an entertainment center and TV stand, you also have the potential to make a highboard or a sideboard – or a mixture of all! It's up to you! Need help with a new design? Contact us by email, chat, or phone.

Something to Build On
When you choose a U-CUBE shelf from MOVISI, you're getting the highest level of flexibility you can get within your four walls. When you no longer have a need for your given configuration with a level surface, simply create something new. New modules are always available – they'll arrive within a few days. You can add onto your shelving, for instance. You could build on a whole new level or just augment it with single modules. It's also possible to adjust the depth of the shelves at any point – something you won't get anywhere else! The U-CUBE shelving system fits your needs and desires, not the other way around; it's you who determines the design of your room, not the room's limitations themselves.

The TV Board
Use your shelving as a TV board. If you're flexible and want to stay that way, then U-CUBE is the shelf for you. Don't want to limit your TV experience to one spot – want choices?
U-CUBE is so lightweight that you'll be able to reposition your U-CUBE media furniture easily. You don't even need casters. It's simple to move U-CUBE without any help or a big effort.

Compact and Practical
U-CUBE only takes as much space as you deem necessary, fitting in to any decor with its simple, elegant look.
Use it in the office space. You'll show off your original style and display important items such as technical equipment. U-CUBE is so light that you can easily move it from room to room.
Add more levels onto your shelf and set off more technical equipment.

Two colors and unlimited forms
As with all MOVISI furniture, you have a choice with U-CUBE between black and white. You'll also be able to select the color of the connectors. Our furniture's surfaces are integrated into each piece – we don't need any fixatives or additional material. This means U-CUBE is more straightforward to recycle and reuse as raw material. We don't need any wood or the glue and fixatives that would require, substances that would off-gas in your home and affect your air quality. U-CUBE is completely free of chemical additives. You can immediately implement U-CUBE, without worry, in your bedroom or children's room.
U-CUBE: create a natural, harmonic habitat with a durable piece of furniture made with conscience. We'll help you achieve new heights of style, design, and sustainable environmentalism.

Less Sound Vibration and Transmission from the TV
Since U-CUBE is 90% air, it minimizes sound-wave transmission. When your television or stereo speakers are positioned on or in U-CUBE, the shelf lessens this reverberation through the floor and walls. Your neighbors will be pleased, even if you want to crank it up!

Deep and Practical – Functional TV stands and sideboards
When you want to cap off a tiring day with a cozy evening in front of the TV, you can do it with any old TV set – or enjoy your Netflix and co. to full effect on a large-screen monitor. It'll be perfectly placed at optimal height on top of your chic U-CUBE TV stand. But TV stands and boards can do so much more!

TV stand or Sideboard?
A TV stand can be a low type of sideboard. It is two feet high or less with variable depth and width. It's a great storage unit, one that can be decorated stylishly or artistically. You'll have not just the shelf within but the top surface to work with. A low shelving board is a great under-shelf, for TVs and monitors, for example. You can also display photos, sculpture, your favorite objects, or houseplants here.

The Viewing Experience with Movisi's modular TV stands
Television devices and monitors require the appropriate positioning for best viewing, something you'll achieve easily with a TV stand. Optimize your TV nights! The top surface of a U-CUBE TV stand offers just the right space for TVs or monitors, with additional room for things like a Dolby surround system. Next to these or stowed underneath you'll have room for a Blu-ray or DVD player, game consoles, speakers – even a record player will fit. And remember, with MOVISI, you can always add on to your shelves at any point, as you wish. You determine the length, height, even depth of your new furniture!
A TV stand and So Much More
The big advantage of a modular TV stand is that they radiate an airy feeling. In contrast to a television mounted directly on a wall, freestanding TV stands create a graceful, unfettered look. They'll also lend storage space and a handy flat surface to a room, without taking over the spotlight and a lot of area. Exactly the opposite: A U-CUBE TV stand can make your room appear longer and larger, as you wish! Let yourself be inspired and, in addition to the standard TV stand in the living room, come up with countless other spots for this great sideboard.
In the bedroom, a TV stand at the end of the bed can be a handy spot for diverse objects without standing out too much. In the hallway, a U-CUBE TV stand and entertainment center accommodates shoes, boots, and more.
A sturdy TV stand as a Seating Area or Bench
The smallest rooms benefit from the smallest wins in using space. Maybe you don't have a lot of room for chairs; maybe you'd seldom use them. But when you have one or more TV stand, you can rearrange them with flexibility. Guests can simply take a seat on a TV stand. Just throw a cushion on top and in the blink of an eye, you've created a seating area. Once guests leave, remove the cushion and use the top surface of a U-CUBE TV stand as usual, as a handy storage area.
In addition to that, U-CUBE can of course be completely altered to make a bench or individual stools.
Advantages of a U-CUBE TV stand from MOVISI
All furniture from MOVISI is multifunctional, modular, and flexible to use. Of course this holds for our TV stand, too. U-CUBE adapts to you, not you to your TV stand.
This is the place to find the ultimate in flexibility, modularity, and multi-functionality, in all dimensions! YOU can rearrange U-CUBE at any point, make something new, separate your furniture into pieces, add on to it as you wish. In every direction! Frequent dis- and reassembly isn't going to affect U-CUBE. Forget about lining up screw holes, losing screws, stripping screw holes… no more! Instead, enjoy flexing your creative muscle, making a TV stand into a highboard, a shelf, a long bench, or a room divider. You have control here.
One thing you'll never need? Tools.
We always have everything in stock and ready to deliver within a few days.
Drills, screwdrivers, a hammer – you won't need any of it!
Material That Holds Up its End
Our U-CUBE furniture typically holds heavy loads, whether as a base for a TV or as a seating area, whether in the kids' room, in the hallway, the bedroom, or living room. The material we use is very stable and flexible at the same time. We don't use glue, toxic materials, or additives. All we need is 10% material, 90% air, pressure, and a little heat. U-CUBE is manufactured top to bottom in Germany, from the packaging to the tools!

Sustainable and eco friendly furniture for a healthy interior
U-CUBE is allergy-free, emission-free and toxin-free.
We care about the people and the environment, that's why U-CUBE is entirely made in Germany and is 100% recyclable.
100% Made in Germany. Manufactured in a socially and ecologically responsible way.

Easy to clean
Just wipe with a damp towel. It couldn't be easier. U-CUBE does not support microbial growth. If you are really serious about cleanliness, in fact, you can disinfect or even sterilize the furniture with steam. Although U-CUBE generally reacts well to aggressive chemicals, it is advised to always clean using a water-dampened cloth with a mild detergent. Avoid abrasive cleaning agents.
Delivery includes:
16 x U-CUBE modules in black or white
  6 x Single-plus-connector in black or white
  6 x Double-plus-connector in black or white
16 x stabilizing rods (needed only when used as seating)
DIMENSIONS OF LOWBOARD
Length: approx. 72 7/16ʺ
Height: approx. 17 1/8ʺ
Width: approx. 12 19/32ʺ – 13 25/32ʺ
Dimensions of 1 full depth cube (made of 4 modules)
Exterior dimensions (L x W x H): 18 7/64ʺ x 17 11/64ʺ x 13 13/16ʺ
Interior dimensions (L x W X H): 14 9/16ʺ x 13 31/32ʺ x 12 19/32ʺ
Material
U-CUBE is made with 100% recyclable and emission free Expanded Polypropylene, It is allergy friendly, toxin-free, emission-free, high versatile and has an excellent strength to weight ratio. The material is waterproof and resistant to chemicals and, because it is 95 percent air, extremely lightweight .

You can hardly damage U-CUBE. Even if you were to bash it with a hammer, no worries. That's because ARPRO EPP contains billions of closed air cells that absorb the impact before returning to its original shape. Next, when you move it about Movisi furniture will not scratch even the finest hardwood floors or damage walls if you happen to bump them. This means that the material is also safe for children.

Resistant to bacteria and more: U-CUBE is unaffected by exposure to oil, grease, petroleum and most common chemicals. It does not support microbial growth. 

Easy to clean: Like water off a duck's back, U-CUBE fends off dirt, spills, stains of all sorts. Just wipe with a damp towel. It couldn't be easier. If you are really serious about cleanliness, in fact, you can disinfect and sterilize the furniture with steam. Although U-CUBE generally reacts well to aggressive chemicals, it is advised to always clean using a water-dampened cloth with a mild detergent. Avoid abrasive cleaning agents.
 
COLORS
Main module: available in black or white
Modular connectors: available in black or white
DESIGN
Marine Peyre in collaboration with Trickform.