Design your custom sideboard
Sideboards can do anything. Theyʹre real all-rounders. A MOVISI sideboard not only provides capacious storage, it also has a top surface you can decorate however you see fit, as though you had another shelf—countless styling opportunities and designs at your fingertips, so you can customize your sideboard to your room and your own personal style.

Video: Everything You Need to Know About U-CUBE
Sideboards – Multitalented, Attractive Anywhere
Every interior-design buff or design lover should have a sideboard or a commode. For anyone who wants to create additional storage space in their home: Stylish furniture like a sideboard fits perfectly in a living room, bedroom, or dining room, providing new storage spots and a place to display your favorite vase, vacation souvenirs, or photos of your loved ones. Whether in the living room, bedroom, or sunroom – a sideboard will be a highlight in your home and an easy way to express yourself. Your sideboard from MOVISI comes in white or black and suits every decorating style (and your current furniture). Integrate your new sideboard into any room!

A Sideboard for a Warm, Homey Atmosphere
Place a sideboard in your living room or bedroom, even in the middle of the room, to create new spaces with clarity. Place a sideboard in front of your bed, for example, to lend a little more privacy to your lair.
If you wish to give your home a more inviting, comfortable look, choose a black sideboard. A black sideboard will also help remedy the sparseness and cool feel of a large, open space. Create your sideboard to fit your designs – you choose the size and the distribution as well as the colors of your sideboard, skyʹs the limit.

Sideboard: Your Choice
A classic sideboard is narrow, usually consisting of shelves and cabinets or closed panels and drawers. MOVISI furniture has much more diverse potential. You can choose the depth as well as the height and width – the possibilities are endless. Sideboards or commodes, in contrast to low- or high-boards, typically stand between two to just over three feet and can be put to use in many ways.

Sideboards: Modular, Flexible – only from MOVISI
Because of its modular design, a U-CUBE shelf fits every home. These pieces are multifunctional and can be used with flexibility, making them suitable for a sideboard or a commode in any space.

A U-CUBE Sideboard and Room Ambience
Our U-CUBE sideboard does not have any additional, factory-applied coating. Thereʹs no glue involved, no off-gassing or worries about bad air quality. Despite (actually, because of) this, your sideboard is particularly easy to care for. Our sideboard is made of 100% expanded polypropylene – no toxins, no VOCs or odors.
The shelfʹs unique design, at once modern and timeless, makes it suitable for any home, for good design goes anywhere, with anything.
Sideboard from MOVISI: Itʹs All About the Design
Not only is a sideboard a practical choice of furniture when your space is limited and you need extra storage, but, because sideboards or commodes sit low, you have that additional storage without cluttering a room. Stow things easy at hand in a commode and create the perfect decor in one fell swoop.

More Room on the Wall for Treasures
Sideboards create fresh space on the wall! Since a sideboard is lower than a ceiling-high shelf, youʹll frame a new wall area directly above your new MOVISI U-CUBE sideboard. This can be room for other furnishings, such as single U-CUBES from MOVISI, or use the area for artwork, posters, or sculpture. Of course, you could also position a monitor or a flat-screen TV above such a sideboard. No matter what you hang above it, your sideboard will make the room seem larger, airier, more modern, in contrast to traditional shelving.

Flexible, Modular – No More, No Less
A U-CUBE sideboard from MOVISI is a versatile piece of furniture. Not only is a U-CUBE sideboard lighter than other wall or standing shelves (truly: each U-module weighs less than a pound), but you can build it in minutes, fashioning wall shelves, a bench, a chair, or a highboard – this is where itʹs flexibility shines. Our U-CUBE furniture consists of single cubes that can be assembled in seconds flat and disassembled just as easily. Should you change your mind or have a flash of inspiration, you can add on to your sideboard – or section it up into smaller units. You decide! After a move, for example, you can make a narrow highboard or two small commodes from one wide sideboard.

In the Hallway: Using the Space over the Sideboard
There is sufficient room over a sideboard that, especially in a hallway, you could place a coat or key rack over it, or use your U-CUBE sideboard as a combination boot shelf and bench (handy when youʹre putting shoes on).
Your future sideboard offers storage space while remaining inconspicuous. Use it to quickly stow things – the U-CUBE sideboard is optimal for keeping things tucked away and ready-at-hand. U-CUBE as a hallway sideboard? It doesnʹt get any better. With its low to middle height, itʹs the ideal piece of furniture to keep a dish for keys, to-do notes for the day, or photos of your loved ones. Whatʹs more, youʹll have an additional spot in the hallway to store shoes, hats, scarves, handbags, or umbrellas.

Sideboards for Kids?
Consider this: A sideboard in your childʹs room, a handsome shelf in white or black – of course, you could mix the shelf colors, if youʹre feeling playful. Mix it up!
Dolls, teddy bears, books, that first toy train – all can be stored in the blink of an eye, reining in the chaos. And the best thing? Because of its low height, even small children can help with clean up. Now thatʹs learning, pure and simple! And should your little one decide to ʺdecorateʺ his or her furniture with pen or marker? No worries – just wipe it off with a soft cloth and luke warm water. (If that doesnʹt do the trick, add a little soap.) Sideboards are absolutely for kids! Either a low-board or a sideboard is an excellent choice for storage in a childʹs room. A sideboard from MOVISI has a warmer, more playful feel than a massive chest of drawers. And, because of the flexible and robust EPP material we use, your child wonʹt hurt himself on any hard corners. Our U-CUBE is so light that a child can move an entire shelf – let them design their own rooms! But itʹs also sturdy enough not to go toppling over. Unleash the designer in your child and encourage them to rearrange their shelves just as they please.

Clean Deal: Toxic-Free Furniture from MOVISI
The plastic we use is manufactured exclusively in Germany. Our furniture is completely free of toxins. Since we donʹt need to use a surface treatment, thereʹs no glue involved, or any other materials frequently found in furniture, like formaldehyde.

Sustainable and eco friendly furniture for a healthy interior
U-CUBE is allergy-free, emission-free and toxin-free.
We care about the people and the environment, that's why U-CUBE is entirely made in Germany and is 100% recyclable.
100% Made in Germany. Manufactured in a socially and ecologically responsible way.

Easy to clean
Just wipe with a damp towel. It couldn't be easier. U-CUBE does not support microbial growth. If you are really serious about cleanliness, in fact, you can disinfect or even sterilize the furniture with steam. Although U-CUBE generally reacts well to aggressive chemicals, it is advised to always clean using a water-dampened cloth with a mild detergent. Avoid abrasive cleaning agents.
Infinite Possibilities with U-CUBE
Maybe you need a stool or a bench instead of a wall shelf? Make either from U-CUBE. You could even easily construct a room divider: Simply place the U-CUBES face down and stack them on top of one another. Voila, a divider! Or maybe youʹd like to place some U-CUBES at the head of your bed? Itʹll give you a buffer from a cold wall; U-CUBES will actually help regulate the temperature, meaning you wonʹt have to rest your head right next to the cold exterior wall anymore.
As always, you can design your MOVISI sideboard just the way you want it. You choose the color combination, the shape, the length, depth, and height! Itʹs MOVISIʹs unique selling point. All you ever need is this one module (or cube), which you can combine with others the way you see fit. You can rearrange them at any time, redesign them, make something new. Donʹt need a sideboard anymore? Make a TV stand and some wall cubes – no problem, with the simple wall-mount system. You can mount your U-CUBES any old time.

One U-CUBE, Many Advantages
When you buy a sideboard from MOVISI youʹre getting a high-quality product thatʹll be at your side for years to come. Youʹll always be able to add on to it – you can always buy single modules for that.
Whatʹs so cool and unique about our sideboards?
Just a few quick notes before you buy your first U-CUBE sideboard:
• U-CUBE is modular and can be added on to at any time
• U-CUBE gives you countless possibilities for individual expression in design
• Assembling U-CUBE is childʹs play – faster than any other shelves from MOVISI, and tool-free
• Donʹt forget the high quality materials and manufacturing – quality made with LOVE in Germany
• We use only the simplest packaging
• Due to the almost ideal-case production process, emissions are nearly 0
• We keep sustainability at the forefront of our minds during production and shipping
• Short production routes
• Our furniture consists of just 10% material and 90% air
• With MOVISI, moving house is easier than ever: quickly disassemble the shelving, then reassemble it in place without tools

Delivery includes:
32 x U-CUBE modules in black or white
16 x Single-plus-connector in black or white
12 x Double-plus-connector in black or white
16 x stabilizing rods (needed only when used as seating)
4 x U-Clip in shelf colour (min. order 2 U-modules)
Material
U-CUBE is made with 100% recyclable and emission free Expanded Polypropylene, It is allergy friendly, toxin-free, emission-free, high versatile and has an excellent strength to weight ratio. The material is waterproof and resistant to chemicals and, because it is 95 percent air, extremely lightweight .

You can hardly damage U-CUBE. Even if you were to bash it with a hammer, no worries. That's because ARPRO EPP contains billions of closed air cells that absorb the impact before returning to its original shape. Next, when you move it about Movisi furniture will not scratch even the finest hardwood floors or damage walls if you happen to bump them. This means that the material is also safe for children.

Resistant to bacteria and more: U-CUBE is unaffected by exposure to oil, grease, petroleum and most common chemicals. It does not support microbial growth. 

Easy to clean: Like water off a duck's back, U-CUBE fends off dirt, spills, stains of all sorts. Just wipe with a damp towel. It couldn't be easier. If you are really serious about cleanliness, in fact, you can disinfect and sterilize the furniture with steam. Although U-CUBE generally reacts well to aggressive chemicals, it is advised to always clean using a water-dampened cloth with a mild detergent. Avoid abrasive cleaning agents.
Dimensions: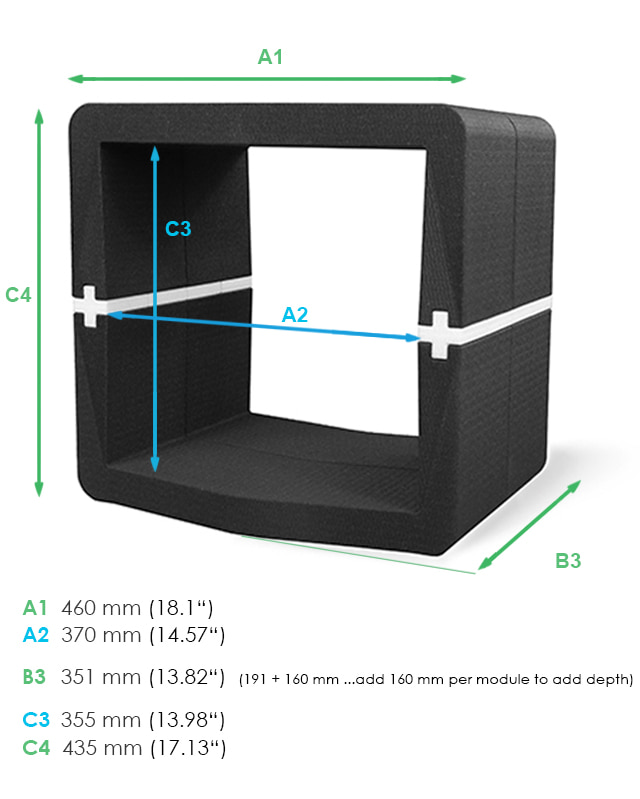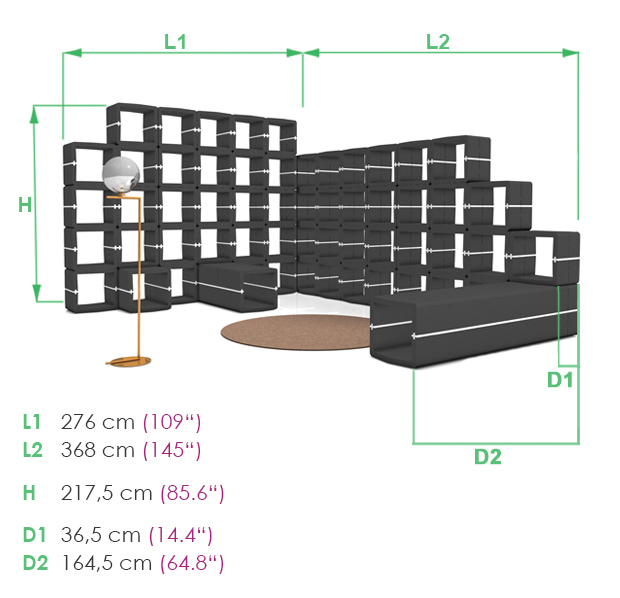 Dimensions of 1 cube (made of 4 modules)
Exterior dimensions (L x W x H): 18 7/64ʺ x 17 11/64ʺ x 13 13/16ʺ
Interior dimensions (L x W X H): 14 9/16ʺ x 13 31/32ʺ x 12 19/32ʺ